Ramarley Graham's mother: 'DOJ should stop dragging its feet'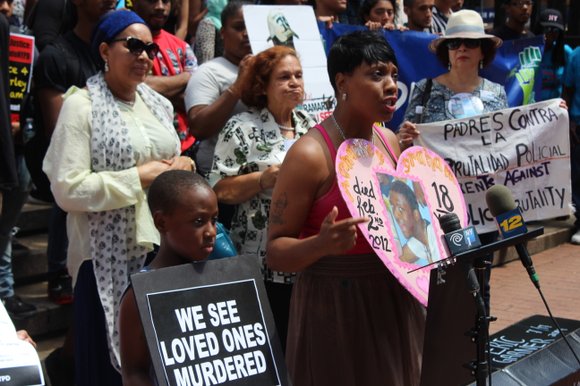 Flanked by dozens of youths outside the Department of Justice office in downtown Manhattan last week, the mother of Ramarley Graham urged U.S. Attorney Preet Bharara to speed up his investigation and slap civil rights charges on Richard Haste, the NYPD officer who killed her unarmed son.
Renewed calls for federal action is the latest chapter of the Graham family's three-year push for police accountability and federal indictment.
"We're demanding that the DOJ move swiftly on this case," Constance Malcolm told a crowd of supporters. "They've been investigating for two years now, but that's not telling me anything. I want to know when I'm going to get justice for my son. My son is in a cemetery right now."
While much of the attention has been on Haste, the mother emphasized that all the other officers involved in Graham's death "should be prosecuted to the fullest extent of the law, not a slap on the wrist."
"We want justice and we want it now," Malcolm added as she stood next to Chinnor Campbell, the 9-year-old brother of Graham who was in the house at the time police killed Graham. "Preet Bharara, please stop dragging your feet and move on this case. We want to see justice in this case. You can't break into someone's home and kill them and walk away scot-free. It's just not right."
Feb. 2, 2012, the NYPD reported that members of its narcotics unit in the Bronx saw Graham adjusting his pants on the street, a sign that "he was acting suspicious" and had a gun. When officers approached him, the NYPD said the teen ran off toward his house. However, surveillance video showed that he walked calmly into the house and locked the door.
The video showed officers running to the door with guns drawn and trying to kick down the door Graham had entered. Several minutes later, Haste and a colleague were seen in the yard after they successfully broke into the apartment without a warrant. Officers chased the teen into his grandmother's bathroom. Graham was shot in the chest and later died at a Bronx hospital. No weapon was found on the teen or anywhere else in the house.
Months later, a Bronx grand jury indicted Haste on manslaughter charges. State Supreme Court Judge Steven Barrett dismissed the manslaughter charges against Haste on a technicality. He ruled that the prosecutor had not given proper instructions to the grand jury. A second grand jury declined to bring charges.
Youths at the rally, many from community-based organizations and social justice advocacy groups. chanted, "Justice for Ramarley Graham! DOJ prosecute now!"
"There's overwhelmingly clear evidence of wrongdoing on the part of the NYPD, yet the Bronx district attorney failed to get justice for Ramarley. We demand justice," said Keeshan Harley, a board member of Make the Road New York. "More than three years since the killing of Ramarley Graham, the community and Ramarley's mother has yet to feel to comfort of justice. How many Black boys and girls will we lose to the hands of gun violence and negligence before justice is served?"