Ramarley Graham's mother: 'DOJ should stop dragging its feet'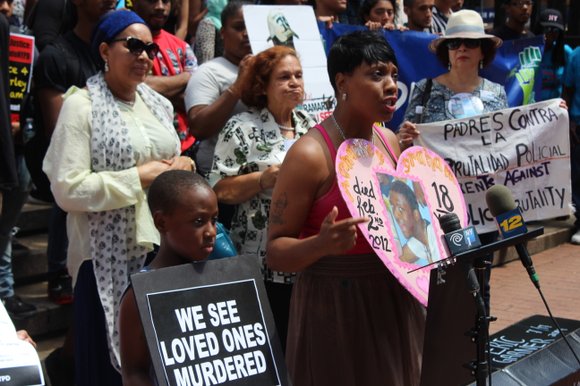 Last week's rally comes nearly two years since the DOJ said evidence is being reviewed to determine whether Haste violated the unarmed teen's civil rights. Last October, the family met with Bharara when he officially confirmed that a federal civil rights investigation into Graham's death has been launched. Still, supporters questioned why the investigation is taking so long when the facts are there.
"What are they trying to investigate for three years?" asked Iris Bias, mother of Anthony Baez, a 29-year-old security guard who died after being placed in a police chokehold 21 years ago. "Nothing is being done. We deserve and want justice. We've proven that [Haste] has committed murder."
The city recently settled a $3.9 million lawsuit with the family in January. After, the family vowed that the settlement will not prevent them from seeking justice and police reform.
The DOJ recently wrapped up its investigations into the deaths of two other unarmed Black teens, Trayvon Martin and Michael Brown, two high profile cases that triggered numerous protests across the country. Even though the DOJ failed to indict the community watchman and officer who killed the teens, respectively, Malcolm told the AmNews that she has "some" hope in her son's case.
"Hopefully they're in the process of indicting the officers," she said. "I'm hoping. The local system has failed us, so I don't want to put my hopes high."