Bratton under fire for comments about lack of diversity in the NYPD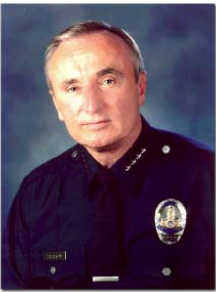 NYPD Commissioner Bill Bratton makes disparaging statements about diversity in the NYPD during an interview with The Guardian, a British newspaper.
In a story published Tuesday, Bratton said that hiring more Black male NYPD officers is a challenge because criminal records are preventing them from qualifying.
"We have a significant population gap among African American males because so many of them have spent time in jail and, as such, we can't hire them," he said.
Bratton has called for a retraction saying that his words were taken out of context.
In order to become an officer applicants must pass a criminal background check. Felony convictions automatically disqualify applicants.
However, Bratton said the stop-and-frisk policy, formally used by police, plays a role in taking Blacks out of the process. Summonses are also considered in the hiring process.
The NYPD is 16 percent Black while the city has a Black population of over 20 percent.
Brooklyn Borough President Eric Adams said Bratton made to light a long-standing practice in the NYPD when it comes to hiring. Adams wants to expand the NYPD exam for school safety agents, traffic agents and hospital police officers.
"Black men want to serve and protect their communities, but a variety of factors have served as barriers to entry at One Police Plaza," he said. "We need a diverse police force that our communities can be proud of, one that creates role models through a reflection of true courtesy, professionalism and respect."