Harlem Globetrotter legend Marques Haynes
Herb Boyd | 6/11/2015, 11:31 a.m.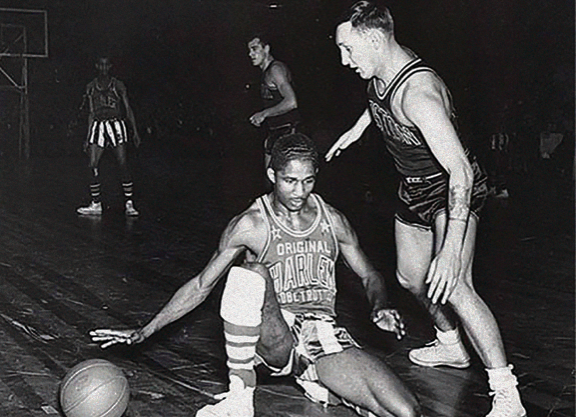 When it came to dribbling a basketball, making it appear as though he had it on a string, Marques Oreole Haynes of the Harlem Globetrotters was matchless. His hands moved the ball with a quick, easy efficiency, between his legs, behind his back and always a little bit beyond an opponent's reach.
Traveling abroad, I missed hearing about Haynes' death May 22 in Plano, Texas. He was 89, and his memory gained an even larger impression on my mind during a recent visit to Oklahoma, where Haynes began his legendary wizardry with a basketball.
Haynes was born Oct. 3, 1926, in Sand Springs, Okla., a city a few miles west of Tulsa, and at a very early age his prowess with a basketball was evident, even when limited to his dirt yard at home. What isn't often cited is that his older brother Wendell gave him his first lessons in ball handling.
At Booker T. Washington High School, Haynes transferred his skills on dirt to the hardwood, later leading his team to a national championship in 1941. A year later, he was a student at Langston University, a historically Black college named after John Mercer Langston, the first elected official in the U.S. He was the recipient of a $25 church scholarship, which kept him at the school from 1942 to 1946. He earned the first of many honors after being named to the Second Team Scholastic All-American.
His career at Langston was spectacular. He led his team in scoring each year, was a four-time All-Conference selection and led the Langston Lions to a winning record of 112-3, including a phenomenal 59-game winning streak. But this was just the beginning.
It was during a game in which Langston defeated the Globetrotters that Haynes' magic caught the attention of Abe Saperstein, owner of the Harlem Globetrotters. "Haynes and company so impressed their celebrated competition that he and several teammates were offered spots in the Trotter organization," wrote Nelson George in the deeply rewarding book "Elevating the Game: Black Men and Basketball" (HarperCollins, 1992). "Instead of jumping at the opportunity to turn pro—as most college kids do today—Haynes decided to stay in school and receive his diploma."
Soon, however, he was in touch with Saperstein, and after an impressive tryout he was assigned to the Kansas City Stars, a de facto farm team and later, like the Washington Generals were to the Globetrotters, a foil for the playful antics of the Stars. "During that time," Haynes related to writer Art Rust Jr., "I created somewhat of an uproar with my dribbling and ball handling. The Globetrotters did not have a fancy type of ball handler and passer that I was."
Haynes' dribbling style, based on his ability to control the ball at a low center of gravity, and even while prone on the floor, became a "showtime" attraction wherever the Globetrotters appeared. That segment of the show soon rivaled and surpassed the crowd-pleasing clowning of Goose Tatum, the team's center.
In his 40 year basketball career, Haynes traveled to over 100 countries and played in more than 12,000 games during his two stints with the team, 1947 to 1953, 1972 to 1979. The break in his affiliation with the team occurred when, according to Nelson, Haynes discovered that Saperstein "was negotiating with longtime pal Eddie Gottlieb to sell him to the NBA's Philadelphia 76ers [in fact the Warriors]. Learning of Saperstein's part ownership of the [Warriors], Haynes blocked the deal then asked for a higher salary, which Saperstein refused." Dissatisfied with the underhanded manipulations, Haynes took his act back to Oklahoma and formed the Harlem Magicians.