Kleinsinger's Jazz, J.D. Allen, Newark Jazz Garden, Blue Note Fest
Ron Scott | 6/11/2015, 12:07 p.m.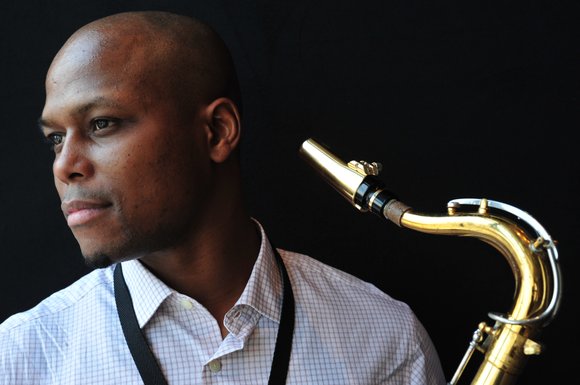 While institutions like the Village Gate, Mikel's and the JVC Jazz Festival have become a subject of the past tense, the tradition has continued with Jack Kleinsinger's "Highlights in Jazz," New York's longest running jazz concert series.
"Highlights in Jazz" will conclude its 43rd season June 11 with "Jazz Past & Present," a multigenerational double bill featuring the passionate duo of pianist-composer Randy Weston and tenor saxophonist Billy Harper, who will draw selections from their current acclaimed CD, "The Roots of the Blues" (Sunnyside Records).
Weston, who has played with Harper for over 40 years, noted, "Billy is a great blues player. When he plays the tenor, it's like an orchestra. Together, the duo will vitalize the African roots of jazz with its blues connotations from his originals like 'Blues to Africa' and Berkshire Blues."
Sharing the bill with NEA Jazz Master Weston, who celebrated his 89th birthday in April, will be a quintet of twentysomethings assembled by Kleinsinger featuring some of his favorite up-and-coming young jazz players, including saxophonist Steven Frieder, trumpeter-vocalist Benny Benack, pianist Dylan Meek, bassist Devin Starks and drummer Kosta Galanopoulos.
"These are some of my kids who played with us when they were students at the New School, the Manhattan School of Music and Julliard," said Kleinsinger. "You know, it's important to me because a lot of younger musicians that are not so young any more got their start with 'Highlights in Jazz' like Kenny Washington, Greg Hutchinson and Peter Bernstein."
"Highlights in Jazz" originally started at Theatre De LYS then moved to a variety of locations, including Astor Place Theatre, Hunter College, NYU and Pace University before arriving at its current location. Kleinsinger has produced many concerts in New York City schools, colleges and prisons. He has co-produced programs for the Newport and the New York jazz festivals.
The tenor saxophonist J.D. Allen originally held the reputation as a "young gun," but now he has evolved into a 40-something maverick with a spontaneous, explosive style who is always looking to extend his colorful motif. The hard-bop composer, who has earned recognition in that special circle with Sonny Rollins, John Coltrane and Wayne Shorter, will appear for two nights June 12 and 13 at Minton's Jazz Club in Harlem (206 W. 118th St.).
The J.D. Allen Trio will feature his abled cohesive team of bassist Gregg August and drummer Rudy Royston, one of whom appear on Allen's latest CD, "Graffiti" (Savant, 2015). The trio has been together since 2006, and while Allen admitted some years ago they had a tenuous start, they worked out those kinks sometime ago.
These two nights are a celebration debut for the release of "Graffiti." These nine original compositions by the native of Detroit are all gems.
The trio, like a trapeze act, take your breath away. The JD3 take you to the edge, pushing you over with their bold, fluctuating flow in the spirit of free jazz but stay strongly grounded in the tradition of hard-bop spontaneity. Throughout, Royston and August are given room to flex their muscles on solos and share the graffiti jazz motif that constantly changes.