Lifetime's 'Preach' coming to TV
Deardra Shuler | 6/11/2015, 11:18 a.m.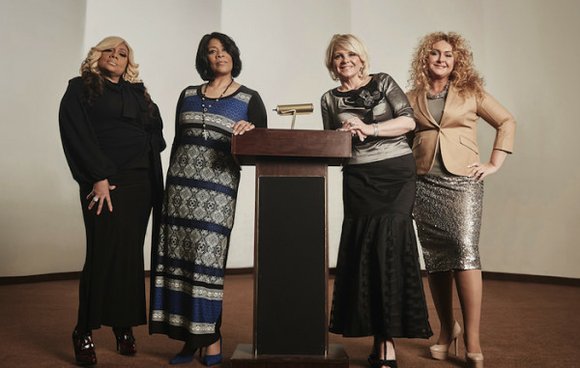 The Lifetime Network approached me about their upcoming docu-series "Preach," produced by Core Media Group and slated to air Friday, June 5 at 10 p.m. "Preach" features four women prophets called by God to do his work on Earth. These prophetesses are Belinda Scott, Taketa Williams, Linda Rourk and Kelly Crews.
Scott hails from Cleveland Heights, Ohio. She gives council to celebrities and politicians throughout the country and specializes in childbirth and blessing the wombs of barren women. She also has a protege who grew up Muslim but converted to Christianity.
Rourk is from Trenton, Ohio. An evangelist, pastor, co-pastor and mother of two, she came into her prophesy ministry 15 years ago. Linda works with the homeless and the drug-addicted, feeding the communities she works with both spiritually and physically. She is known for her timid personality yet fiery style of preaching that gets her congregation to their feet.
From Columbus, Ohio, Williams is a prophetess, pastor, author, televangelist, wife, international speaker, revivalist, mother of two and someone who says she has been delegated and assigned by God to speak on God's behalf on the earth. According to Williams, God has given her an ability to gain insight regarding people's past, present and even future, and has commissioned her to help people deal with their problems in life.
And lastly, there is Crews from Cleveland. Crews is Scott's former protege who is now building a ministry of her own. She is the only single prophetess in the group. Being a prophetess requires sacrifice and meeting the kind of strong man who can handle her gift.
I had the opportunity to talk to two of the prophetesses, Williams and Rourk, who shared their calling, their gifts and how it affects their lives and the lives of those to whom they minister.
"I was a church secretary over 20 years ago at that time my husband prophesied for me. He said God told him that one day I would be prophesying for many people all over the world, including Hollywood. At that time, I was happy working my corporate job and being a part-time church secretary. However, I am now walking in the manifestation of what my husband prophesied for me. It has not been an easy journey, but God has appointed me to do what I have been called to do. And now a fire burns in me to preach," said Williams.
"Twenty-two years ago, I was praying in my prayer closet, asking to understand what my mission in life was, then I heard an evangelist preach. There was such a power coming from her, I decided I wanted to possess that. I knew I wasn't living, only existing. I started to pray and then the Lord spoke to me and validated that I too was called to preach," explained Rourk. "Much of my work has been among the homeless and drug-addicted. There are people in my family who are addicted. I feel privileged to be able to help people and to turn their lives around.