Victims' families to Roof: 'May God have mercy on you'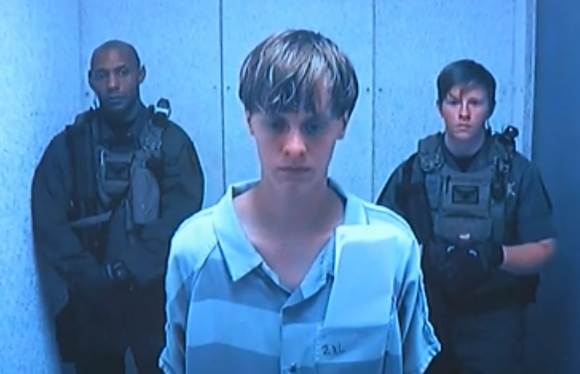 The white man who confessed to killing nine people at a Black church in South Carolina has his bond set at a hearing on Friday.
The judge set a $1 million bond for Dylann Roof on the charge of firearm possession in the killing. The judge did not have the authority to set bond for the nine counts of murder. That's left up to a circuit judge to decide.

Dressed in a striped jumpsuit, Roof's bond hearing was conducted via video conference from a county jail where he is being held in isolation.
The judge asked Roof his age, if he was employed and confirmed his address.
Several family members of the victims from Wednesday's shooting, that took place at the Emanuel AME Church in Charleston, S.C., were at the hearing and spoke about their lost loved ones. Family members gave tearful statements and said they forgave Roof as he listened showing no emotion.
"I forgive you and my family forgives you but we would like for you to take the opportunity for you to repent," said the son of Myra Thompson, Anthony. "Give your life to the one who matters the most so he change you and change your ways and you will be OK and you will be better off than you are right now."
The mother of Tywanza Sanders recalled how the church welcomed Roof into their bible study Wednesday night with open arms and how she is grieving the death of her son and the others.
"You killed some of the most beautiful people that I know," she said. "Every fiber in my body hurts and I will never be the same. Tywanza Sanders was my son and my hero. May God have mercy on you."
The judge said that Roof's next court appearance will be on October 23 then again on February 5, 2016.