'Black Art Legends' event honors artist Robert Carter
NADINE MATTHEWS | 6/25/2015, 2:29 p.m.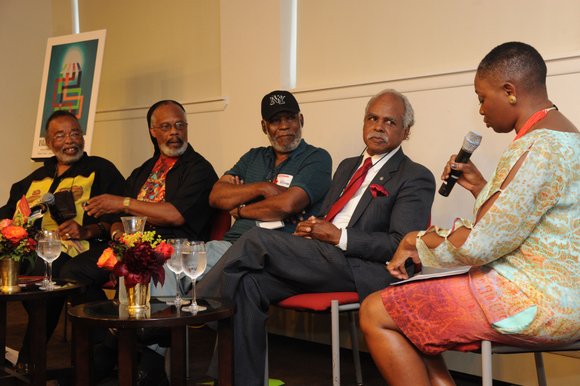 Carter, wearing an omnipresent gentle smile and fitted grey suit, was also eager to share his "great amusement" about a story then in the news about a woman named Rachel Dolezal. Dolezal, who is white, pretended to be Black and became head of the NAACP Spokane office. She professed a great, lifelong interest and appreciation for Black culture when the subterfuge was finally revealed. "Let's say we could turn the calendar back and go back 40 years and tell someone," he explained in cheerful disbelief. "They wouldn't believe it—a white person wanting to Black? Unbelievable! That's why I find it ludicrous!"
Goodnight is also a Vietnam War veteran. Suffering from post-traumatic stress disorder after the war, he literally lost his voice and acquired a drug habit. Many around him thought he had lost his mind. Eventually, an interest in art restored his voice and quieted the various demons that had plagued him since coming home from the war. He received his degree from the Massachusetts College of Art in 1976. His works have since been featured on "The Cosby Show," "Seinfeld" and "The Fresh Prince of Bel-Air" and are part of the art collection at the Smithsonian Institution.
"My inspiration," he says, "has been the people who live in my neighborhood. The people who have taught me to stay in the game, the people who have supported me, events that I have encountered in my travels around the world from Russia to Africa to Nicaragua, to Brazil, throughout the Caribbean." His advice for others is, "If you find something that you naturally do, that you naturally gravitate toward, your responsibility is not to hold onto it, give it back to somebody else. It is all of our responsibility to give back. We are citizens of our community, whatever happens in our community also reflects on us. We can't always paint what we like to paint. Sometimes we have to paint what we have to paint or communicate through a visual means, if we don't do that, we're not using our 'voice' for the benefit of the whole community."
Also in attendance was former Ailey dancer Dwana Smallwood. Smallwood, who has recently opened her own performing arts center in Brooklyn, talked about how having been a dancer executing choreography based on the Black American experience colors the way that she interprets and appreciates this particular medium and expression of art. Said Smallwood, "Art through time has been, I believe, the one thing that has helped us to sustain ourselves throughout all the atrocities that have happened in different cultures. We have all experienced something, and it was art in the form of music, dance or visual arts has allowed us to see the other side's point of view."