Staying fit on the road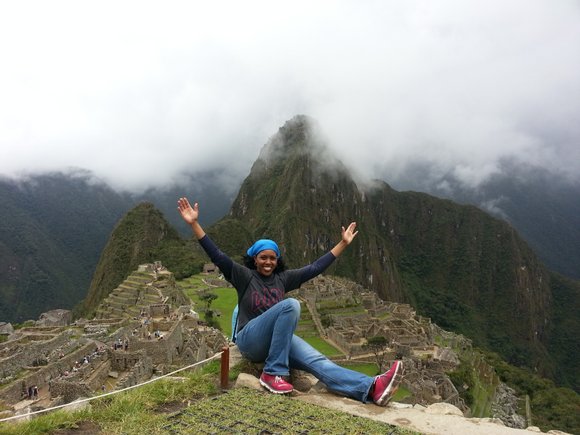 Whether traveling for business or leisure, it is very important—and often very difficult—to keep fit on the road. Between being out of your home routine, dashing between airport gates, eating different foods in new places, brief breaks at road side quickie marts, client breakfasts, lunches and dinners or any combination thereof, it is easy to come home heavier, more tired and feeling like you got caught in a hurricane that took everything from you. However, there are several practical, easy and enjoyable things you can do—whether in a gym, your hotel room or al fresco—to help you stay fit on the road.
ARISE!
The demanding challenges of work, the rigors of pursuing a higher education degree, constant business and personal travel and the everyday challenges of life made it difficult at times, to say the least, for Candice McField to maintain her health and well-being. It was those experiences that ultimately led her to found Candice McField Fitness, the world's largest online fitness resource, catering primarily to the frequent traveler and equipping clients with the tools to train anytime, anywhere, no excuses! In other words, experience "Accountability, Results, Innovations, Solutions and Ease—Arise!"
"Unfortunately, all too often when we travel or go on vacation, we put our health on the back burner," says McField. "Hence, it is critical to take a proactive approach toward your health and fitness goals when on the road. This will enable you to maintain or improve your current level of progress, energy levels, positive attitude and, most importantly, your waistline and physique."
Everyone from flight crews to business travelers and globetrotters take advantage of the company's easy to follow personal training tools that are easily accessible from your mobile phone, laptop or tablet. Their FitnessBuilder app features over 1,000 workouts, including those that focus on limited equipment or when working out in a hotel room, and the FitnessClass app has over 400 full-length workout videos such as yoga, step, boot camp, Zumba, Pilates, and so forth.
McField also provides great general travel fitness tips, such as drinking two to three liters of water a day, increasing the amount of sleep you normally get, substituting dessert with fruit or coffee every two out of three meals and creating opportunities to build exercise into your trip (i.e., taking a 10-minute morning walk), just to name a few.
A LITTLE NUDGE IS ALL IT TAKES
Not having a workout co-conspirator or cheerleader (this sounds so much better than "accountability partner) is one of the many reasons people fall off the workout wagon, both at home and on the road. But health tech company Nudge has developed a health and fitness app that makes staying in shape while away from home much easier. 
What makes Nudge different from many of the other related apps on the market is that it is designed to streamline all of your favorite health tracker apps and widgets in one place and provides you with a healthy living score within a 30-day snapshot.
The app, which is especially valuable with fitness wearables such as Jawbone, FitBit Misfit, Garmin and others, tracks your dietary intake, hydration levels, fitness minutes and hours of sleep, connects you with a virtual Nudge coach and allows you to compare your progress, whether to lose weight, manage stress levels, reach specific health or fitness goals or eat healthier, among other goals, with friends.