Staying fit on the road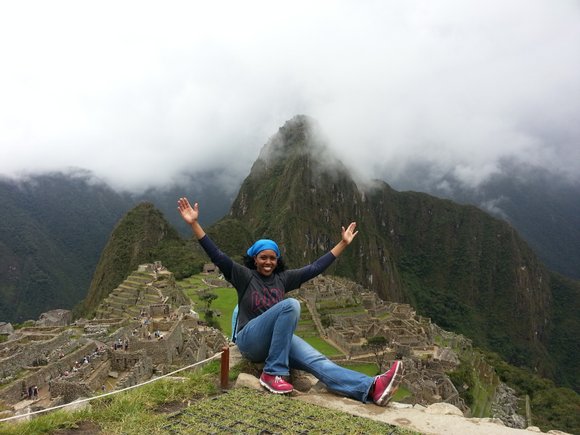 GET AND STAY FIT, LIKE 'THE ROCK'
OK, so maybe you don't, or won't, look just like Dwayne "The Rock" Johnson. But there are still many things that the fellas out there can do while on the road to have and maintain a body that fits their particular needs, desires and lifestyles.
According to the experts at Men's Health in a recent article titled "Stay Fit and Avoid Weight Gain While Traveling," there are several things that will take worrying about sabotaging your eating and fitness habits off your plate. Speaking of eating, one of their recommendations is to avoid the airport food courts, where quick, high-sugar, high-carbohydrate grabs like chips, pastries and sugary drinks can add hundreds of extra calories to that day's intake. Instead, they advise, pack healthy "travel-friendly foods" such as energy bars, ready-to-drink shakes and salad and cracker-type snack packs. Another tip is to lay off the booze, which often goes down in more copious amounts at business lunches and dinners with clients. The alternative is to drink as you would at home and add more lean, protein-rich foods to your meals to fill you up.

STRIKE A BALANCE
Personally, balancing work, motherhood, partner hood and the rest of daily life is sometimes so hard, it seems overwhelming. Add to that frequent road trips, multiple time-zone changes, international climates and foods … and you have a no-workout, not-enough-sleep, face-breaking-out, totally body-aches disaster on your hand.
But never fear, Allison Blair of site the Vintage Postcard offers 11 great tips to help keep a healthy and happy body and mind on the road. Easier said than done but always effective is simply to stay active. Blair, who hates to use the hotel gym, substitutes the great outdoors as her physical playground by practicing yoga, taking a hike, going for a bike ride or even just embarking upon a short walk around the block. Even if you only have a short 10 minutes, she says, it's worth the effort.
Another tip is to eat local. (Now she's speakin' my language!) Instead of ordering the same things you can get at home such as burgers, pizza and the like, opt for a local or regional specialty, which are most likely made from fresh, local ingredients that are good for your body and also offer you a more authentic culinary experience.
Lysa Allman Baldwin is a freelance writer and the publisher and editor of Amazing Escapades, offering "Adventures for the Mind, Bod and Belly"