Imhotep's Guide To Black Events 03/5-03/11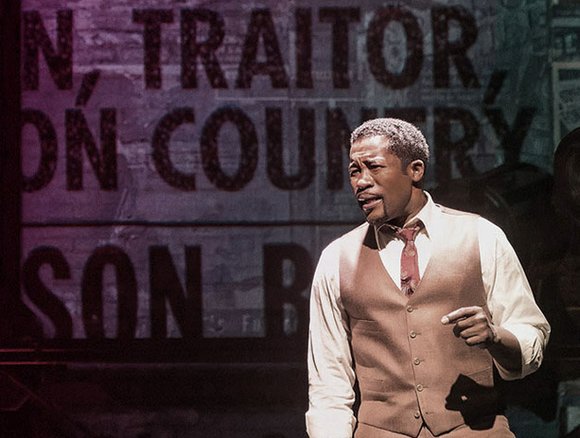 The "Queen of Soul" is coming! Legendary multi-Grammy Award winner Aretha Franklin brings her amazing chain of hits to NJ-PAC, Newark, N.J., Saturday, March 14. Call 888-GONJPAC or visit njpac.org.
Blue Note presents Lauren Hill's "Small Axe: Acoustic Performance Series." Live at the Cutting Room, Saturday, March 14 and live at Madiba Harlem and My Image Studios, Friday, March 20. Visit bluenotejazz.com.
Don't miss New Jack Swing 2015, March 28 at 8 p.m., with Blackstreet, featuring Teddy Riley and Dave Hollister; Guy; and special guest El DeBarge. New Kings Theatre in Brooklyn. Tickets at MarqueeConcerts.com.
FILM
"Selma," the heralded Oprah Winfrey-produced civil rights film chronicling Dr. Martin Luther King Jr.'s SCLC campaign to secure equal voting rights, via a racially dangerous, epic march from Selma to Montgomery, Ala., in 1965. Nominated for Best Picture and winner of Best Song. (Check listings.)
"Timbuktu," Academy Award nominee for Best Foreign Language Film. Now playing at Film Forum, 209 W. Houston St. Box office: 212-727-8110. Lincoln Plaza Cinemas, Broadway, between 62nd and 63rd streets. Visit lincolnplazacinema.com.
COMMUNITY
BEPPA Black history great debate, "Who Is Greater, Barack Obama or Muammar Gadaffi?" Debaters: Milton Allimadi and professor James Blake, Sunday, March 8 at 3 p.m., at John Henrik Clarke House, located at 286 Convent Ave., Harlem N.Y. Admission is free. Call 347-907-0629 to RSVP.
"Set the Record Straight: A Serious Conversation With Our Elders," a discussion with panelist professor Kaba Hiawatha, Dr. Leonard Jeffries, Nana Camille Yarbrough and professor James Small. Questions to be addressed: When to draw the line in our community? Who can we trust? What is the solution? Sunday, March 8 at 2 p.m. National Black Theater, 2031 Fifth Ave. For information, call 212-722-3800. Free will offerings accepted.
"Coffee with Naya Arinde," New York Amsterdam News editor, Therapy Winebar, 364 Lewis Ave., Brooklyn, N.Y., Saturday, March 14, from 1 p.m. to 5 p.m. Visit facebook.com/NYAmsterdamNews/post.
Sunday, March 15, the long-waited return of renowned author Sister Shahrazad Ali, with guests Abundance Child, Keisha Hopkins Forrester and poet/violinist Dread Blaq, at the National Black Theater, 2031 Fifth Ave. at 125th Street. Call 347-496-1022 for vending and ticket details.
Hear Imhotep Gary Byrd on 107.5 WBLS-FM daily with "Imhotep's On-Air Guide to Black Events" and "Express Yourself," Sunday evenings from 7 to 9 p.m., and on WLIB-AM with "The GBE Mind Flight," Sunday evenings from 9 p.m. to midnight. The full show can be heard on HD radio at WBLS-HD2. IGB is also heard on WBAI-FM 99.5 with Radio GBE: The "Global Black Experience" and "Global Beat Experience," Fridays 6-8pm. We are archived online with both shows at www.wbai.org. To contact us for bookings or to reach us about your event, email igbexp@gmail.com, find Imhotep Gary Byrd on Facebook or follow us on Twitter @GBELIFE or call 212-592-3279.