Madness in Madison
CYRIL JOSH BARKER | 3/12/2015, 11:12 a.m.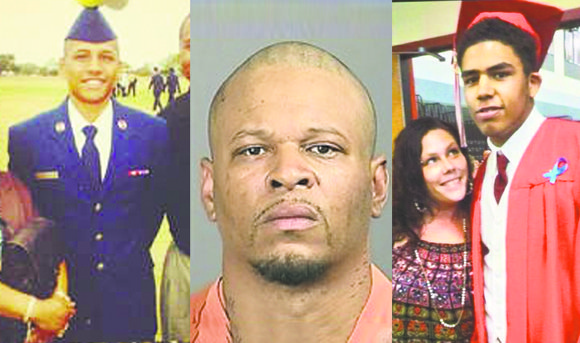 People around the nation are asking if police gun violence is reaching epidemic proportions.The name Anthony Terrell Robinson Jr., 19, is now on the list of unarmed men of color fatally shot by police. Protest again ensued, fueling the out-of-control distrust between police and the community.
The epicenter this time is Madison, Wis., on the evening of March 6. Reports indicate white police officer Matt Kenny followed Robinson, who is biracial, to a house, where an alleged altercation took place. Police officials allege that Robinson attacked Kenny, resulting in Kenny drawing his weapon and shooting Robinson. He later died at the hospital.
Robinson is not Kenny's first victim. According to reports, the officer was involved in fatal shooting in 2007, but was cleared of all charges.
The Robinson shooting has been compared with the shooting of Michael Brown in Ferguson, Mo., in what is being called another misuse of excessive force by police.
"My son has never been a violent person," said Andrea Irwin, Robinson's mother. "Never. And to die in such a violent, violent way, it baffles me. My son is now another statistic of the things that are happening all over the Unites States. Another Black kid shot by the police for no reason. This has got to stop."
The Dane County, Wis., chapter of the NAACP said in a statement that solutions must be pushed for within in the criminal justice system that will help keep communities safe.
"While there will be reactions from community leaders, faith leaders and concerned citizens, the NAACP calls for calm and vigilant monitoring of events as they unfold," chapter officials said.
Madison Mayor Paul Soglin said he met members of the family and members of the community who were at the scene and heard their concerns. He also spoke to Madison Police Chief Mike Koval and discussed concerns.
"Our community has many questions—questions that I share," Soglin said. "There will be answers. There is a new state law that mandates an independent investigation into officer-involved shootings. Investigators from the Wisconsin Department of Criminal Investigation were on the scene immediately last night. We must give them time to do their job."
In a blog post this week, Koval apologized for the shooting and stated that his department faces a serious test of trust.
"Reconciliation cannot begin without my stating 'I am sorry,' and I don't think I can say this enough. I am sorry," Koval said. "I hope that, with time, Tony's family and friends can search their hearts to render some measure of forgiveness."
As with similar incidents, protests in Madison have ensued with chants in the streets of "Black lives matter" and "Hands up, don't shoot." Hundreds of people have reportedly taken to the streets every day since Friday, when the shooting occurred. Thousands of students from middle school to college staged a walkout this week, gathering at the sstate capitol building in a peaceful protest. A viral video shows hundreds of people flooding the inside of the capitol building chanting and holding signs demanding justice.