Talking SCHOP! Taking uptown Upland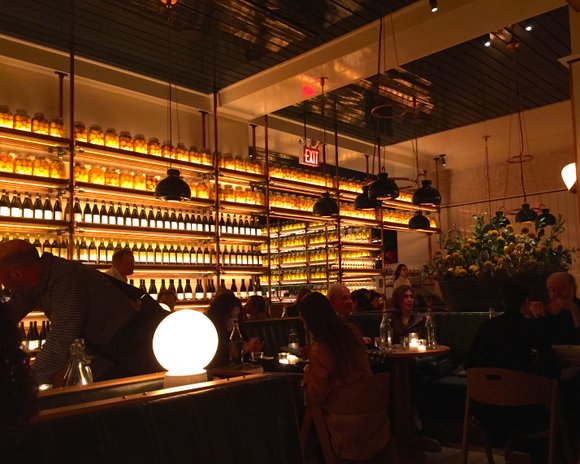 Life is not easy being a food writer. Yes, we all must eat, but with my appetite and desire to find the best foods, I have to eat some not so good plates before I discover the gems you should be eating. That said, I see the buds on the trees—spring is right under this snow. Therefore, I am pulling back the reins to do some body "spring cleaning." Thank goodness, as I have tons of food stories, experiences and interviews from which to draw.
One such recent experience was had at a new restaurant in the Flatiron area. It was that time again to regroup with my gals, aka the Fab Five, over some fresh food, laughs and even a celebrity sighting or two. This time it would be at Upland (@Upland_NYC, 345 Park Ave. South, 212-686-1006, www.uplandnyc.com) for an inspired meal.
It was a cold, bitter night in the city, but once inside, the bustling space felt as if I were in the restaurant of an upscale modern country inn with the all of the wood-paneled walls, dark leather banquettes, the gingham tablecloths and the plaid-clad servers. Rows of large jars of preserved lemon used as decoration suggested expectations of the bright Californian-inspired food of executive chef Justin Smillie.
There didn't seem to be a bad seat in the house, as we nestled into our banquette for five (next to restaurateur Drew Nieporent and comedian Robert Wuhl). We were all starving, so we started with something small, a pizza of nduja (spicy pork sausage), stracciatella (a type of mozzarella cheese) and passata (tomato puree). I know you are saying, "Oh, sausage pizza," and it was, but on spicy steroids!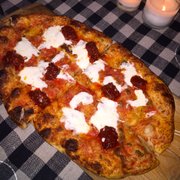 We did order a lot, but thanks to the chef's generosity of spirit, he sent out so much more, which is good news for you! Let's begin with the vegetables section of the menu, which starts with the almost famous whole crispy hen of the woods mushroom with cloumage (a young farmers cheese) and herbs. This dish is just amazing in its umami simplicity and great to share with the table. Another surprise was thinly shaved torpedo beets beautifully presented with robiola, white chocolate and seeds. Complex, great balance and texture!
Though I could on about our perfectly al dente pastas of bucatini cacio e pepe (one of my favorite, if not my favorite pasta dishes) and pappardelle with spicy sausage ragu and kale or our entrees of Tasmanian sea trout with smoked cone cabbage and chardonnay vinegar and the must-return-for Upland cioppino, a seafood stew, with spicy Korean gochujang, it was the one (appetizers) section of the menu that deserves most of my praise, because we got all but one of them.
The five lettuce "Caesar" with Bordeaux radish and garlic anchovy vinaigrette included black kale, treviso (radicchio) and butter leaf and was hands down the best Caesar I have ever eaten. It's a meal in itself and perfect for the table. Burrata with trout caviar and crispy leeks was a different approach that needs another try. Hamachi crudo is always a light winner made unique with thinly sliced radish and sunchoke.