Frasier leads South Shore to the girls PSAL championship
Vincent Davis | 3/19/2015, 12:09 p.m.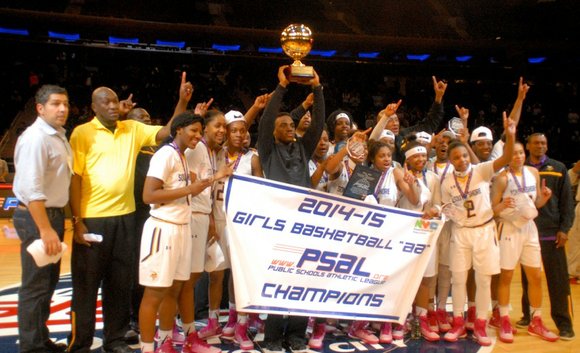 The South Shore girls varsity basketball team from the Flatlands of Brooklyn won this season's PSAL high school championship on the court of Madison Square Garden, where pros and the collegiates play, beating the Grand Street Campus Lady Wolves, also from Brooklyn, 42-30.
The South Shore Lady Vikings, 14-1, the No.1 seeded team, coached by Anwar Gladden, had also beaten Grand Street earlier in the season. Game 1, their only loss this season, was a one-pointer at home to the Francis Lewis Patriots of Queens.
Gladden, who's finally won a PSAL championship after several chip losses, had high praise for his team, especially the seniors, and for his game MVP, Brianna Frasier, whose 22 points led the way for the Lady Viking victory. "I'm happy for Brianna," Gladden said. "I'm proud of her. She worked hard for it."
Although the game started with the anticipated awkwardness of high school players getting acquainted to the bigness of the Garden, Frasier, who has committed to the Maryland Terrapins, scored 15 of the Lady Viking points in the second half, blocking 6 shots and pulling down 7 rebounds during the game. Gladden further commented, "To watch her grow up and play well today, and mature into the player that she is today, is a proud moment."