Haynes at 90; Gloster Project; Vanguard at 80
Ron Scott | 3/19/2015, 10:33 a.m.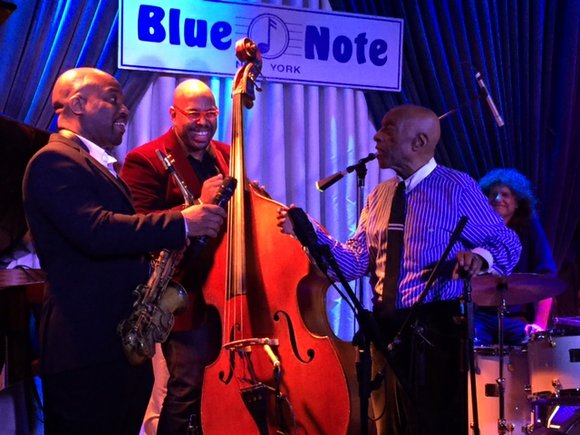 The young Roy Haynes earned a reputation in his hometown of Roxbury, Mass., before Luis Russell sent him a one-way ticket to join his 18-piece band, which was engaged at Harlem's Savory Ballroom in 1945. Another first was the grand opening of Manhattan's Birdland Jazz Club in 1949, when Charlie "Bird" Parker opened the club with Haynes, his drummer. However, last weekend, the show was all about Haynes celebrating his 90th birthday at the Blue Note Jazz Club. Both shows were sold out each night for Haynes' three-day celebration.

There was only breathing room for this special occasion one inch to the right or left and unintentionally you hit someone.
In his six decades, he became one of the most recorded drummers in jazz. Haynes, like Max Roach, changed the role of drummers from timekeepers to phrase-makers, punctuating and assisting in the textual melodic and harmonic definition of the music. His "snap, crackle, and pop" sound made him the drummer of choice for Lester Young, John Coltrane, Sarah Vaughan, Louis Armstrong, Chick Corea, Miles Davis, Stan Getz, Ella Fitzgerald and Thelonious Monk.
On opening night, Haynes was joined by his regular band the Fountain of Youth, featuring saxophonist Jaleel Shaw, pianist Martin Bejerano and bassist David Wong, which he has molded into exceptional musicians, and his special guests, bassist Christian McBride and guitarist Pat Metheny.
As the band roared, Haynes was just as crisp, offering textured currents playing under and over with defining improvisational harmonies. "I haven't had this much fun ever," stated Haynes. "It's weird to play on Friday the 13th for my 90th birthday. I was born on Friday the 13th—how strange is that? My mother always said I was her good luck."
Haynes entertained the audience with jokes, impromptu songs such as "Know When to Fold Them" and a soft shoe. "All of us who have had the great blessing of being around you has made all of us better people," stated McBride. "The genius of your drums comes from your soul and we feel it."
Randy Weston, TK Blue, Kelvyn Bell, Hamiet Bluiett, Oliver Lake, Will Calhoun, Awa Sangho and Tomas Doncker recently shared their time and musicianship under the banner of "Great Voices in Harlem," a benefit for the Gloster Project.
The benefit at Mist Harlem, which was standing-room-only, featured more than 25 musicians covering the Black Diaspora rainbow from blues and gospel licks, avant-garde to poets Quincy Troupe and Rachel Eliza Griffiths' wrenching poem, a Mississippi blues tribute, Queen Esther's a capella interpretation of "Lush Life" and Randy Weston's duo with Blue, his longtime saxophonist, playing "Little Niles." Not to mention, Dee Dee Bridgewater's rousing "All Blues" turned into a jam session with the force of a spirited hurricane ready to swing the roof off.
"Man, we should have recorded this because something like this may not happen again," said Calhoun.
The Gloster Project is the brainchild of Margaret Porter Troupe. "I feel the responsibility for our children belongs to us. I believe the support for our community comes from us," said Troupe. "As a native of Gloster with the resources to help the children of my home, it's the only thing to do."