Mayan history and culture in Mexico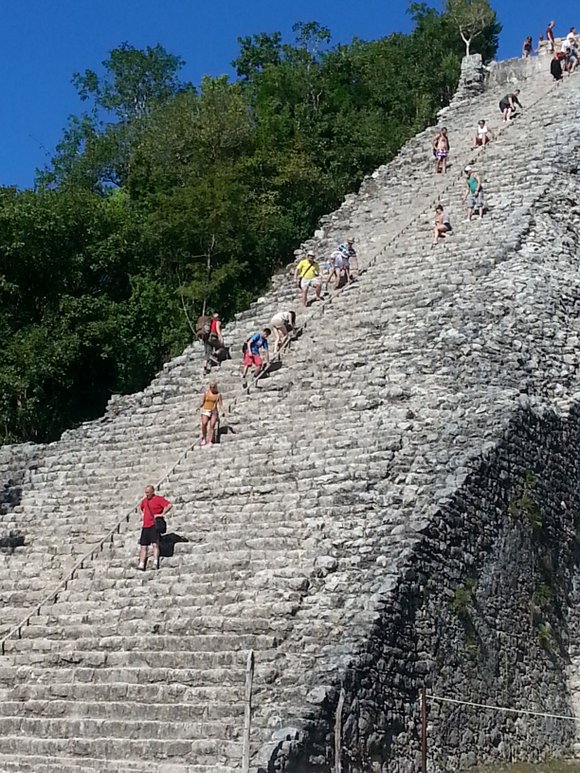 Moreover, they still consider their villages to be sacred and that it is a great honor to invite others, and to be respected, upon their ancestral lands. After a short 15-minute hike through the jungle paths bursting with an abundance of tree life, flora and wildlife, we suited up to zip line over the trees and a lagoon—a very easy and great beginner zip line for those who've never done it before. (In fact, one of the women in our group did it for the first time—at age 75!)
After another short hike, we arrived at a Mayan ceremonial area, where a shaman performed a special blessing ceremony—in his native Mayan tongue—encompassing burning special herbs and blessing each one of us with leaves and an individual prayer of thanks, good health and safety.
From there, we prepared to rappel into an incredible "cenote" (pronounced say-note-tay), which means "'sacred well" in the Mayan language—a natural, subterranean fresh water pool formed over thousands of years from the surrounding limestone bedrock.
They are considered sacred in part because the Mayans believed they were a portal to speak with the gods, and they served as a source of fresh water in times of drought. What also makes them unique is that because they are naturally filtered by the Earth, they are completely clear and you can see your feet, fish and plant life below. Some cenotes are open, more like an above-ground swimming hole, whereas others are in caves, as in this village. And at a constant 60 degrees, they are a refreshing experience year-round.
After rappelling approximately 50 feet below the surface, we splashed around in inner tubes or swam around before ascending via either the pulley chair or climbing the ladder rope up to the surface. I have to say for someone who is claustrophobic and a bit acrophobic (afraid of heights), it was well worth it!
Next came a relaxing canoe trip across a tranquil fresh water lagoon to the village hut where the local Mayan women prepared an outstanding, authentic Mayan feast that consisted of stewed chicken, vegetables, soup, rice, beans, potatoes, pasta, empanadas and hand-made tortillas—all cooked with traditional Mayan ingredients.
From there, it was about a 25-minute drive to the ruins of Coba, which means "water stirred by wind." Coba is one of the oldest and most important Mayan sites in the region, thought to have been home to an estimated 50,000 inhabitants stretching over a 50-mile area. Here, the guides provide a detailed background history and take visitors to explore the legendary ball game area and other various temple ruins, which are in remarkably good shape considering they were thought to have been built somewhere between 400 and 1100 A.D.
The centerpiece here is Nohuch Mul ("large mound"). At 140 feet high, it's the tallest pyramid in the Yucatan Peninsula. Climbing to the top is both exhilarating and treacherous, as the pyramid is incredibly steep and many of the steps are worn from present-day use. However, it is an incredible experience at the top, where you'll enjoy jaw-dropping views of the surrounding subtropical jungle and region.
The Coba Maya Encounter is one of the most authentic Mayan experiences and best archaeological site excursions offered in the region, and a must for any Riviera Maya traveler. It provides a wonderful appreciation for the amazing accomplishments of this early civilization that continues to influence us today.
Lysa Allman Baldwin is a freelance writer and the publisher and editor of Amazing Escapades, featuring "adventures for the mind, bod and belly" (www.amazingescapades.com).