Great finds for the traveler on the go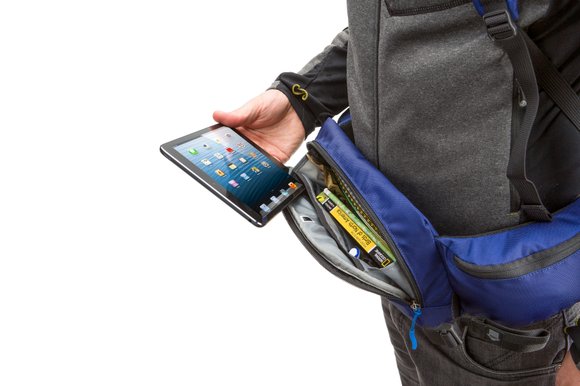 Great finds for the traveler on the go
By LYSA ALLMAN-BALDWIN
One of the benefits of being a travel writer is that you often find out about many of the latest travel accessories, gadgets, clothing, books and so forth as soon as they come on the market, each offering its own unique features for those on the go. Following are just a few of the latest I have found and use on the road.
POCKET POPPET: THE CARDIGAN ON THE GO
Whether you travel a great deal, go from the office to your child's school activity or just have to deal with changes in weather throughout the day, having a light jacket or sweater on hand is often a necessity. A new stylish, functional, practical and above all packable option is the Pocket Poppet.
Made with high-quality wrinkle-resistant fabrics, the Pocket Poppet is a travel cardigan designed with graceful pleating and a back seam placed just above the natural waist level that discreetly hides an attached, lightweight, water-repellent and tear-proof fabric pouch into which you can fold it when not in use. This feature makes it a very convenient accessory that you can easily stick into a purse or travel bag.
Additionally, when wearing the Pocket Poppet—which is very comfortable and the pocket cannot be seen by others around you—you can place small items such as travel documents, a cellphone, keys and the like in it should you need to keep your hands free. It comes in three different designs and a wide array of colors.
262-325-1380, www.thepocketpoppet.com
SHIFT YOUR THINKING
Backpackers, campers, cyclists, outdoor enthusiasts and global travelers will be particularly interested in the MindShift Gear Rotation180 Travel Away Backpack.
Unlike a regular backpack that the wearer has to remove to open and access possessions, the innovative design of the MindShift Gear Rotation180 has a rotating beltpack that you simply pull in front of you to reach your small important items, such as a camera, travel documents, mini tablet and so forth. Not only is this feature convenient, but it is also great for safety, particularly when traveling in areas where keeping your things secure is of the utmost importance. The belt pack can also be removed from the backpack to use on its own.
The larger backpack itself, made of durable weather-resistant materials, is spacious enough to hold everything from clothing to books, a large camera, food and the like, and has dedicated pockets to conceal and hold a large tablet or up to a 15-inch laptop.
855-757-2727, www.mindshiftgear.com
GET YOUR "WOJO ON!"
With the amount of traveling I do, I am always switching things over from my purse, to my wallet, to my pants or to my jacket pocket, depending on the upcoming activity. Plus, my goal is to travel as light and easy as possible. To that end, the Wojo Wallet is among my newest travel accessories.
Utilizing a unique design, the Wojo Wallet is a very slim silicone, neoprene-lined sleeve designed to hold your driver's license, credit cards, cash and, if you desire, even a single key. But best of all, it is water resistant and floats, which makes it a great option for any environment or weather condition.