HOT 97 Summer Jam 'bout to kick off the outdoor live music season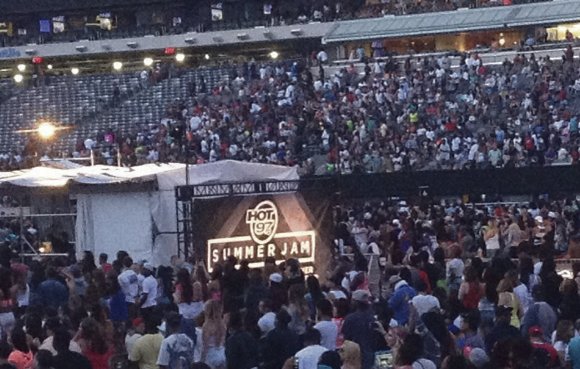 Consistent mild weather aside, a clear indication that summer is upon us is the energy of the music. Of course, hip-hop is usually at the fore. Summer Jam is usually considered the official start of the summer months. WQHT HOT 97 FM, the No. 1 station for hip-hop and R&B and host of the biggest hip-hop event on the planet, will take over MetLife Stadium Sunday, June 7 with a promising main stage lineup featuring by Kendrick Lamar, Chris Brown, Trey Songz, Big Sean, Fabolous & Friends, Meek Mill, Ty Dolla $ign and Friends, Omarion and Childish Gambino. The pre-show Festival Stage will feature performances by Travi$ Scott, B.o.B, Joey Bada$$, DeJ Loaf and Teyana Taylor.
"The season is here! HOT 97 Summer Jam 2015 is less than 30 days away," says Deon Levingston, general manager of Emmis NY/HOT 97. "This is the event that is known throughout the world as the premier hip-hop concert to be at each year. Our special Ebro in the Morning seats sold out during the pre-sale run, and with such a magnetic Stadium Stage lineup, I expect tickets to go fast! We have the biggest names in hip-hop on not one, but two stages, and are looking forward to giving our fans an experience of a lifetime. Summer Jam is where 60,000 of our listeners get to hang out with the entire HOT 97 family and celebrate hip-hop! We're excited to give them another captivating show this year. See you at MetLife on June 7!"
This past weekend, however, indicated that there might be a new set-off point for the summer. With the expansion of one of their biggest events, "Night of Main Events" at Irving Plaza, into a two-day affair—part two took place at Black Star Music and Video—the Ultimate Rap League has proved that battle rap culture is ingrained as a standalone entity in hip-hop culture. Pop superstar Drake was in attendance at Irving Plaza and teased a possible venture into the battle arena with one of the greats in the game, Harlem's own Murda Mook.
A battle between two artists of similar stature is highly regarded, but the real fun comes in watching one evolve from just a combative emcee to a well-rounded, impactful mainstream artist. Seeing that happen for an artist on a card is rare, but the odds of seeing that occur with rappers matched against each other is virtually impossible, yet it has happened. The year was 1997, in Cincinnati, Ohio, at an event called Scribble Jam, where the adversaries both went on to garner platinum plaques, Grammy Awards and, in one case, an Oscar.
The matchup was Eminem versus Rhymefest. On the surface, it seems like the accomplishments were one-sided, but the victor in that battle, Rhymefest, has gone on to have a stellar career on the low. That's if you can classify songwriting credits on Kanye West's "Jesus Walks," which won the Grammy for Best Rap Song at the 47th Grammy Awards, and Common and John Legend's "Glory," which received the 2015 Golden Globe Award for Best Original Song and the 2015 Academy Award for Best Original Song, as low key.