Northside Center Gala celebrates impactful honorees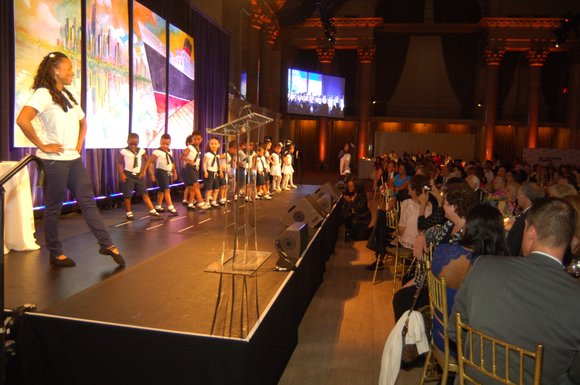 The good thing about spring cleaning is you find things you'd forgotten you had, which can mean a new wardrobe, new shoes or new pots and pans. It also leaves you with a feeling of accomplishment.
Very accomplished are American Ballet Theatre soloist Misty Copeland; Editor-in-Chief and Publisher of the New York Amsterdam News Elinor R. Tatum; and Larry Merlo, president and CEO of CVS Health. They were the honorees at this year's Celebrate Northside Center for Child Development Gala 2015.
Copeland is an inspiration to everyone. She used ballet to make her most cherished dreams come true when the odds were against her. Her latest book, "Firebird," reveals her story, and it will captivate you until the end. Tatum shared her childhood learning obstacles with the audience, and she is living proof that with proper guidance, structure and a willing staff, there is nothing that one can't overcome and accomplish. Achievement in the face of adversity is what Northside Center is all about—making dreams for a healthy, productive life come true not just for some, but for everyone, especially those most in need.
The one word that best described the gala and the accomplishments of its honorees is "amazing." As stated in the welcoming remarks, "The gala is an opportunity to recognize and thank those who reaffirm the belief that we all have the capacity to make a dramatic difference in the lives of others," and it is something that Northside Center does very well.
Held at Cipriani's Wall Street, the much anticipated event didn't disappoint as the guests were festive in both dress and spirit. Thelma Dye, Ph.D., the Hilde L. Mosse executive director and CEO of Northside Center, is always elegant, as one would expect of the person who graciously hosted Catherine, Duchess of Cambridge when the duchess visited Northside Center this past fall (while she was pregnant and wearing heels).
Mamie Phipps Clark, Ph.D., and her husband, Kenneth B. Clark, Ph.D., co-founded Northside Center with little more than a dollar and a dream. Today, Northside Center raises millions to provide a myriad of services to the community. The behavioral and mental health clinical programs continue to flourish while consistently providing programs that reach out to the home, school and community. Programs such as Clinic in Schools, sponsored by the Robin Hood Foundation and the American Friends of the Royal Foundation of the Duke and Duchess of Cambridge and Prince Harry; Applied Behavioral Analysis, sponsored in part by Tiger Foundation, for children on the autism spectrum; Shahara's Closet, sponsored by Shahara Ahman-Llewellyn, providing clothing and other necessities for children; the pre-primary classes of the Jacqueline Kennedy Onassis School of the American Ballet Theatre, sponsored by the Leslie and Daniel M. Ziff Foundation; Tech for Tots and Tech for Tweens, sponsored by Eric and Barbara Hippeau; Karate for Kids, sponsored by George and JoAnn Jenkins; Jazz at Lincoln Center, sponsored by Joan and John Jakobson; and Chess Outside!, sponsored by Barbara and Howard Sloan, are some of what's going on at Northside Center.