Mexican love at the Pueblo Bonito Sunset Beach Resort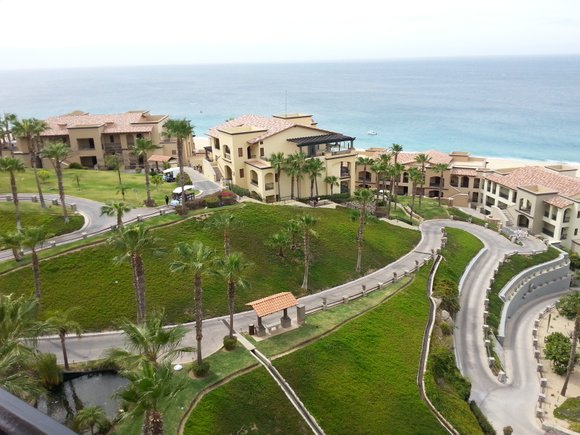 In the first part of our Mexico getaway, we had just begun to explore beautiful Los Cabos, situated approximately 1,030 miles south of San Diego at the southern tip of Baja Mexico (sometimes called Baja California), hugging the Pacific Ocean to the west and the Sea of Cortez (Gulf of California) to the east.
This "dual destination" encompasses San Jose del Cabo, the mellow, old world Spanish side of these fraternal twin cities, with Cabo San Lucas representing the somewhat boisterous, party child. Despite this, Cabo San Lucas possesses a peaceful, relaxing and inviting side, and I found it at the Pueblo Bonito Sunset Beach Golf & Spa Resort.
"BONITO" (BEAUTIFUL) IS JUST THE BEGINNING
Perched high atop a picturesque, private coastal bluff overlooking the Pacific Ocean on the western tip of the Baja peninsula, Pueblo Bonito Sunset Beach Golf & Spa Resort is consistently rated as one of the top luxury resorts in Mexico, and for good reason. The resort excels at every turn, truly providing guests with the ultimate Cabo San Lucas beach vacation experience in a tranquil, secluded location that makes you feel worlds away from the hustle and bustle of nearby downtown Cabo.
The all-suite accommodations are spacious, inviting, colorful and ike being in one's home or private apartment as opposed to a hotel room. The beds are blissfully comfortable, the bathrooms highlighted by beautiful marble, tile, sunk-in bathtubs and glass-enclosed showers roomy enough for two. Throughout there's oversized furniture, fully equipped kitchenettes and private balconies.
The accommodations are all dispersed between low- to mid-rise buildings dotted around the property, which allow for more, well, space between humanity so you never feel as if all of the guests are constantly on top of each other. The resort also encompasses larger, 5,000-square-foot villas and other more spacious options for those desiring the ultimate in luxury and private, personalized service. It is here that many A-list celebs, politicians (no names but I hear our former saxophone playing prez comes here) and other dignitaries come to get away from it all.
Because of the steep hills on which the resort is located, guests primarily move about on chauffeured golf carts that deftly and swiftly wind around sharp curves and up and down the steep inclines and declines between the property accommodations and entities.
DO AS MUCH OR AS LITTLE AS YOU LIKE
The resort's full-service amenities here consist of six swimming pools (including a children's pool area and for children ages 4 to 11, a Sunset Beach Kids Club), private beach access, an impressive fitness center, tennis courts, a medical clinic and an award-winning European spa featuring a wide array of salon, massage and body services and treatments.
You'll also find a beautiful chapel with a Sunday morning mass, jewelry, tobacco, gift and clothing shops, a deli and coffee shop, plus laundry and dry cleaning services if needed. And as you might imagine, given the jaw-dropping natural scenery and beauty of the resort, a lot of weddings, anniversary and other celebrations take place here on almost a nightly basis.