Mexican love at the Pueblo Bonito Sunset Beach Resort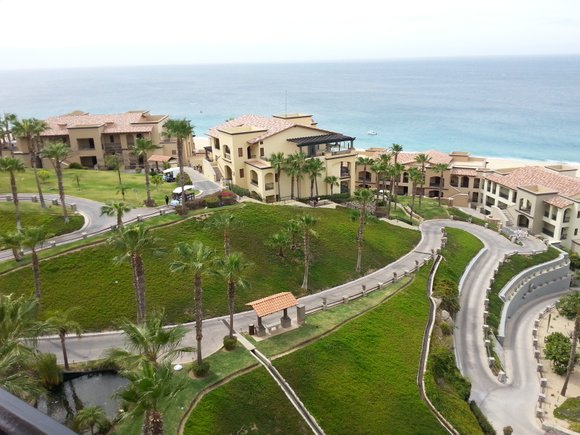 On the culinary front, guests here have the option of choosing an all-inclusive plan, which includes almost a dozen gourmet restaurants both here and at their sister properties (we'll discuss that in a minute), or they can opt for a meal or pay-as-you-go plan, all charged to the rooms in a hands-free, unpretentious "cashless" system.
Gastronomic delights include outstanding seafood, sushi, steaks, authentic Mexican fare, international specialties and more, plus special theme and buffet nights. And if you're still hungry after all of that, just call for their 24-hour Suite Service.
In addition to laying out at the beach or pools (where you can also order great food and drinks), they offer several wonderful daily, onsite activities, including water aerobics, beach volleyball, dance lessons, ping pong games, Spanish lessons, cooking lessons and more.
If you choose to spend some time away from the resort, there are numerous area beaches, golf courses, watersports, excursions including ATV adventures, horseback riding, swimming with the dolphins, surfing, day tours to local villages, shopping excursions and the like.
Complimentary shuttles take guests to their sister properties, Pueblo Bonito Pacifica Golf & Spa Resort (which is adults only), Pueblo Bonito Blanco (which means, and is painted, white), Pueblo Bonito Rose (which means, and is painted—you got it—pink) and the Quivira Golf Club, named the Best New International Course of 2014 by Golf magazine. (They also have a Montecristo Estates Luxury Villas property, and three properties in Mazatlan, Mexico.)
THE CREME DE LA CREME
I've been fortunate to stay at numerous luxury resorts over the years, each offering its own unique vistas, activities and so forth, and I have to say that the Pueblo Bonito Sunset Beach is among the best. The service was absolutely incredible—from the front desk to the food servers, spa attendants, activity instructors, housekeepers, bartenders, groundskeepers and the rest of the staff. The food is amazing, the property is in pristine condition 24/7 and again, the suites are just gorgeous.
The only drawbacks I feel I need to mention are that because of the heavy surf in this part of the region, guests are not permitted to wade or swim in the ocean. However, sunbathing is encouraged, and there are many beach chairs, umbrellas and the like provided for your enjoyment. Additionally, because of the topography, which necessitates a lot of golf cart use (which can be a bit noisy at times) or walking steep stairways and roadways, I think the resort would be difficult to navigate if you have any physical limitations. Nevertheless, once at any public area (lobby, restaurants, shops, pools, etc.), everything is wheelchair accessible.
In our last adventure, we'll venture into town to take in a few sites, enjoy a little shopping and enjoy some incredible food that will leave you begging for more!
Lysa Allman Baldwin is a freelance writer and the publisher and editor of Amazing Escapades, featuring "adventures for the mind, bod and belly" (www.amazingescapades.com).