DanceAfrica 2015 honors founder Baba Chuck Davis
Zita Allen | 5/29/2015, 5:48 p.m.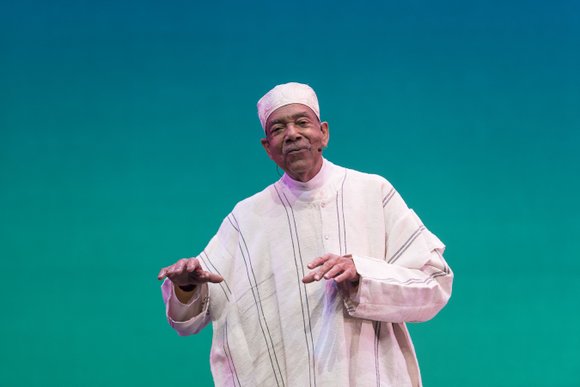 DanceAfrica, the cultural cornucopia conceived and nurtured by Artistic Director Chuck Davis, has filled the Brooklyn Academy of Music with an exuberant explosion of dance, music, film, food, fashion and more on Memorial Day weekend for the past 38 years.
This year, May 22 to 25, the nation's largest African dance festival returned to BAM with a thrilling extravaganza and something extra. This was the last year with the beloved Davis at the helm because as the season ended, he officially passed the torch to Artistic Director Designate Abdel R. Salaam.
"After 38 years, I'm happily moving aside to allow for fresh, new ideas from my 'Danceson' brother Abdel Salaam," Davis announced. Founder and artistic director of his own company, Forces of Nature, Salaam is also a former member of the Chuck Davis Dance Company, so he knows firsthand what big shoes he has to fill and has promised to talk about that in the future but, as Abdel said, "This year is all about Baba Chuck."
Heartfelt tributes to Davis started even before the curtain rose, Friday, May 22, on the performance in BAM's packed Howard Gilman Opera House. Saturday, May 16, as the sound of drums filled the air, Davis was treated to an energetic performance by Bed-Stuy Restoration's young dancers, presented with a proclamation by Brooklyn City Council Member Laurie A. Cumbo and saluted by Delta Sigma Theta Sorority, applauded by luminaries such as Al Van, choreographers Ron Brown and Abdel Salaam and a counsel of elders, and embraced by the community at large.
To mark the historic transition, DanceAfrica flooded BAM with the radiant performance of Brazil's foremost folk dance company, Bale Folclorico da Bahia. With vibrant splashes of color and bright flashes of spirit, their repertory was a rainbow of Brazilian rhythms and African roots, including slave dances, capoeira, samba and more. Also joining the celebration were the Bambara Drum and Dance Ensemble from the Bronx and Brooklyn's BAM/Restoration DanceAfrica Ensemble.
Before the festivities began, the Amsterdam News had the honor of speaking with Davis, the creator of BAM's longest-running, popular and influential program, to talk about his legacy. And what a legacy it is! Over the years, DanceAfrica has showcased 80 companies from such far-flung points along the African Diaspora as the Ivory Coast, Congo, Zimbabwe and Cuba, Haiti, Jamaica and Brazil. It has inspired the creation of replica DanceAfricas in many other cities around the country.
Asked if he ever imagined DanceAfrica would become such an iconic phenomenon, Davis replied humbly, "No, by no stretch of the imagination. But after the fourth and fifth year, I began to realize that there is something to this."
In its first season, DanceAfrica featured Davis' company. Then the scope expanded to embrace others, such as the International Afrikan-American Ballet and the companies of Charles Moore, Nana Dinizulu, Arthur Hall and more. Eventually, Davis cast a wider and wider net. It was not an easy feat.
Asked if the difficulties sometimes seemed insurmountable, Davis answered, "I'm not going to say 'yes' to that because we were fortunate enough to have Bess Pruitt." Praising the woman who helped manage his company and watched his back, Davis added, "Bess was and is a fighter. She was right there when we came into BAM." He cites other longtime supporters, BAM's Harvey Lichtenstein and the American Dance Festival's Charles Reinhardt. In fact, Davis proudly said the Duke University-based ADF is dedicating its 2015 summer season to him. They are also instituting a lecture series in his honor. Beaming, he said, "I just keep moving and enjoying life."
And what a life it has been. Born in 1937 in Raleigh, N.C., which he likes to call "North Cacalacki," when segregation was alive and well, entered the dance world when giants walked the Earth—giants such as Katherine Dunham, Pearl Primus, Alvin Ailey, Talley Beatty, Geoffrey Holder, Eleo Pomare and Mary Hinkson. In 1967, when he formed his own company, things began to fall into place. Then came DanceAfrica festivals and its offshoots.
Some festivals were one-shot deals. Others, in cities such as Denver, Dallas, Pittsburgh, Philadelphia and Washington, D.C., have continued for decades. There have been challenges. Funding today, for example, isn't what it used to be. "Not as many corporations are willing to support something like this today. It's unfortunate because they need to understand that DanceAfrica is about more than just a dance performance," Davis said.
In an era when places such as Ferguson and Baltimore highlight a socio-economic and political crisis similar to the one when DanceAfrica was born, Davis said, "DanceAfrica is necessary. It builds a sense of self-esteem, pride and empowerment while also teaching folks who we are and building cultural bridges. There are so many things to be shared through African culture." Pausing, Davis added, "You know, I go through life attempting to do and be what the creator has placed me on this Earth to be." DanceAfrica is a true testament to that. Ago!