Much to see, do and eat in Cabo San Lucas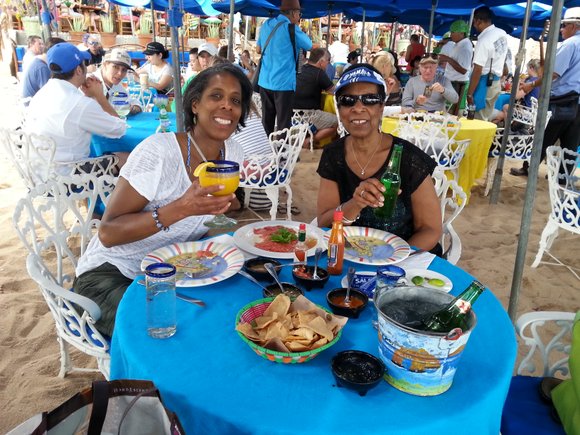 In our two previous sojourns, we delved into the history of beautiful Los Cabos and its fraternal twin cities San Jose del Cabo and Cabo San Lucas, and immersed ourselves mind, body and soul at the Pueblo Bonito Sunset Beach Golf & Spa Resort, one of the top luxury resorts in México.
Now it's time to check out a bit of the local flavor—in both ambiance and gastronomic fare.
ACTIVITIES GALORE
The Los Cabos area has a great deal to offer visitors, from natural estuaries, beaches, surfing, boating and fishing, to diverse golf courses, art galleries, boutiques, historic churches and quaint villages that have retained their own unique flavor and charm for generations.
To help you enjoy as much or as little as you desire, you'll find a number of companies offering a wide array of tours, lasting anywhere from only a few hours to all day, designed to provide up-close-and-personal experiences.
Among them are Cabo San Lucas Tours, whose tours include snorkeling and diving, whale watching and off-road ATV adventures through desert canyons, sand dunes and along the beach.
Serious "big fish" fishermen and women can book a dream fishing trip with Pisces Sportfishing, one of the most reputable charter companies in Cabo San Lucas, to snag that prize skipjack, striped marlin, triggerfish, grouper or other type of fish, in addition to catch-and-release shark fishing.
Dolphin Discovery Los Cabos provides a unique opportunity to swim with the dolphins in their natural ocean cove habitat, and Cabo Adventures offers snorkeling, zip lining and camel riding excursions.
Imagine exploring the diverse marine life and natural rock formations near the famous Los Arcos landmark via glass bottom boat or kayak with High Tide Sea Adventures. Meanwhile, history buffs can enjoy an intimate experience with Cabo Pacific Tours to the enchanting village of Todos Santos, with its impressive artisan culture and Jesuit mission founded in 1730, as well as aboard a Los Cabos Deluxe City and Shopping Tour that takes visitors to many of the area's outstanding Mexican artisan shops and boutiques and historical sites.
EAT YOUR WAY TO HEAVEN
Cabo San Lucas offers a wide array of culinary options in and around town that cater to the estimated 1 million annual visitors who come here from all over the world. From Thai to Italian, French, Moroccan, Greek, Spanish and other cuisines, you will find it here.
There are so many great places to scratch your culinary itch that I couldn't possibly name them all—and don't want to leave any out! But I couldn't end this feature series without telling you about my absolute favorite—the Office.
I have to preface this by saying that I normally tell folks to avoid all of the typical (and especially American chain) tourist joints, as you will find more value, culture and flavor at local places that are operated primarily for the love of the culinary experience, not the love of the monetary benefit.
However, I am making an exception for the Office. Located on Playa El Medano off Avenida del Pescador and open for breakfast, lunch and dinner, the Office is energetic and chaotic, situated next door to a huge outdoor party bar-restaurant with music blaring day and night. It's totally worth every minute!