Former Ailey dancer opens performing arts center in BK
By NADINE MATTHEWS | 11/5/2015, 1:41 p.m.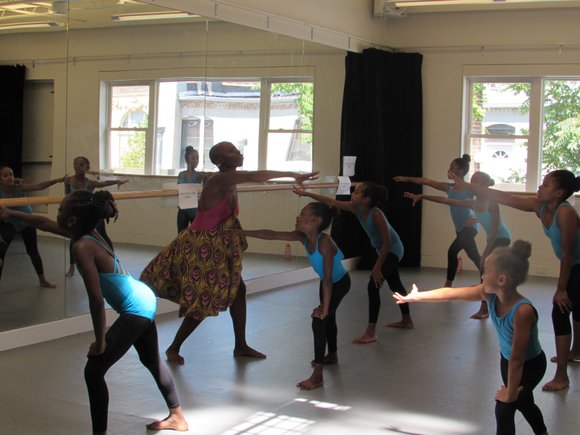 In a sparkling new, sun-drenched dance studio just off the Gates Avenue stop of the J train in Brooklyn, Dwana Smallwood leads a class of eager pre-teens, or "tweens" if you will, in putting together what will be a modern dance routine. Smallwood uses different methods to connect with the various girls. Joking around, poking fun, literally getting down to eye level—whatever she must do to both communicate her own vision and draw out the girls' personalities. If there is anything that illustrates the power and far-reaching effects of certain decisions, this studio is it.
At the tail end of her 12-year turn as principal dancer of the renowned Alvin Ailey Dance Theater, Smallwood agreed to appear in a 2007 issue of Vogue magazine celebrating those who were at the top of their professions. Producers at "The Oprah Winfrey Show" saw the issue and asked her to come on the show. Smallwood made the decision to accept and performed Ailey's masterpiece inspired by and dedicated to his mother, "Cry."
For anyone to appear on "The Oprah Winfrey Show," it must be unarguably an exhilarating experience. For Smallwood, it was a singular experience in its own way. She says, "After being on the show, I kept thinking, 'How many people have I ever seen on television that looked like me?' Dark skin, no hair, barefoot, modern dance—all of it. I searched and I looked, and I don't remember ever seeing that image. And I saw what this did for so many young people. So I wrote her a thank you letter."
That thank you letter led to a request from Oprah that Smallwood lead a one-week workshop at the Oprah Winfrey Leadership Academy for Girls in South Africa. Smallwood agreed, recalling, "I did a workshop for a week. I taught all 320 kids. I sewed costumes. In one week I choreographed two pieces and a little presentation at the end. After that week, she asked if I would come back and stay. And so that year turned into two years and that turned into 'I can't leave' and that turned into 'I'm not talking to you until the first graduating class leaves.'" Smallwood indeed ended up staying there from 2009 through 2013. In that time, she taught, developed the dance program and went on to help direct other vital aspects of the administration and curriculum at the school.
While teaching there, she "learned how to give myself for real. I saw huge transformations in young women who had gone through far too many atrocities."
The program was also exceedingly beneficial to Smallwood in other ways. "It was rewarding and then some because [Oprah] believed in all the gifts I had. I wasn't just a dancer, I was a businesswoman. I was an organizer, a leader. I was so many things."
The experience rekindled something in Smallwood—a mere spark flickering at the back of her mind. She says, "I always knew I wanted to have something that dealt with young women. I wanted a facility. I wanted it to be a home." She fleetingly considered opening a facility back in her hometown of Brooklyn in Bedford-Stuyvesant, where she was raised. Still, the idea remained just a spark until Oprah herself fanned the flame. Winfrey asked Smallwood if she wanted to open her own dance school and offered to help fund its development. At first Smallwood hesitated. The turning point came after she read yet another "District Needs Report" revealing the dearth of cultural institutions in the Bedford-Stuyvesant area of Brooklyn.