Jazzmobile, 'In White America,' Wilbur Ware benefit
Ron Scott | 11/5/2015, 1:59 p.m.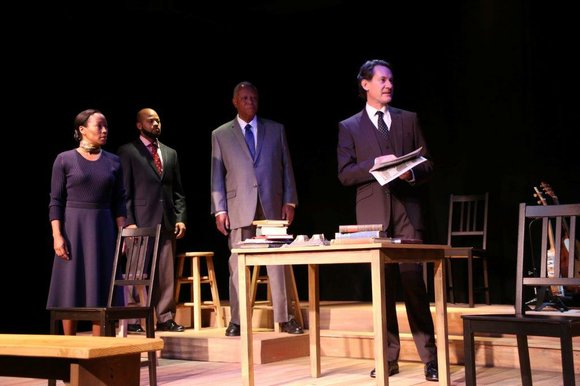 Jazzmobile the nonprofit organization founded in the 1960s to bring live jazz to New York City communities, has moved indoors for the fall. Nov. 13 at 7:30 p.m., its benefit concert "Keep the Music Playing" takes place at the Sanctuary in First Corinthian Baptist Church (FCBC), 1912 Adam Clayton Powell Blvd. at 116th Street.
Some of the all-star lineup, featuring 36 artists and special guests, will include saxophonists T.K. Blue, Antonio Hart and Patience Higgins, pianist Lafayette Harris, percussionist Bobby Sanabria, trumpeter Jimmy Owens, vibraphonist Jay Hoggard and vocalists Lynette Washington, Antoinette Montaque, Brianna Thomas and Allan Harris.
The music directors are the drummer Winard Harper and the pianist Danny Mixon. Proceeds will support Jazzmobile's education programs. For a complete listing and tickets, visit www.jazzmobile.org.
The most important play of this season is "In White America," at the Castillo Theatre (543 W. 42nd St.), now through Nov. 15. In its two-hour running time, you will witness the callous shadow that has shaped American history from slavery to the presidency of Barack Obama.
"In White America," directed by Charles Maryan, is a theater piece that consists primarily of letters, speeches and transcripts of conversations and congressional hearings that took place from 1788 to 1957. The six cast members are JoAnna Rhinehart, Art McFarland (former longtime reporter with WABC-TV), Ezra Barnes, Nalina Mann, Bill Tatum and Shane Taylor, along with guitarist Bill Toles, a one-man musical accompaniment providing percussions and songs.
They never play the same character twice as they move through history as slaves, freed slaves, President Harry S. Truman, civil rights leaders, Paul Robeson and John Brown.
"Whether it was a character with one line or a two-page monologue, it was important to me that they each were fully realized, multidimensional beings," stated Shane Taylor.
Rhinehart presented a multilayered performance filled with sadness, eagerness and anger as she reflected on the first day of school (from that morning to her arrival) for Elizabeth Eckford, the 15-year-old girl who integrated Central High School in Little Rock, Ark., in 1957.
Woodie King Jr.'s New Federal Theatre is producing "In White America," which is celebrating its 50th anniversary. It was originally produced in 1963 in the fiery time of the Civil Rights Movement. The writer Martin Duberman, who was present at this recent performance, says he was happy to see the production's revival at such a crucial time in America.
"This work brings significant meaning to the Black Lives Matter campaign. The belief goes back to slavery," said King. "We are honored to be a part of this production."
As the play's moving journey of America depicts, Black lives never had any meaning to their white slave owners. By law they were property and were treated as such. From 1859 to as late as 1955, more than 5,000 Black people (men, women, and children) were lynched in America. Lynchings were considered community justice by white folks. That white supremacy activism lingers today through institutional racism and political resistance.
For 400 years, African-American lives and their civil rights didn't matter, although abolitionists such as Sojourner Truth and W.E.B. Du Bois and generations that followed have fought and given their lives in the name of equality and the fact that Black lives do matter. The slogan's concept is much deeper than police officers shooting unarmed victims.