An open letter to Mayor de Blasio: Don't take New York backwards
Guest Editorial | 11/5/2015, 1:02 p.m.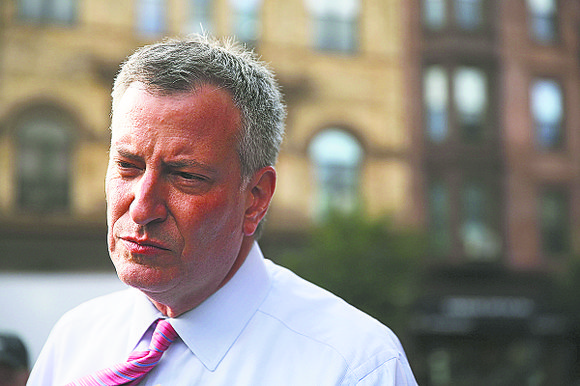 The death of NYPD officer Randolph Holder is a tragedy. Our hearts and prayers are with his family.
We all want a safer, stronger city, but reactionary decisions that are not based on evidence or facts will fail to improve public safety and our criminal justice system. We believe Mayor Bill de Blasio should withdraw his proposals and convene stakeholders to develop real solutions that can advance justice and public safety for New Yorkers. We have serious concerns that these proposals risk taking us back to a period when the development of criminal justice policy was driven by shortsighted politics and fear, which left us with defective policies, racial disparities and mass incarceration.
We acknowledge the need to act. What is needed in this moment is a clear-eyed assessment of the criminal justice system in New York City, so that we may identify problems in policy, procedure or process that may be corrected to help prevent such tragedies from happening again. New York has led the country in sensible criminal justice reforms, and we should build on these successful innovations to improve the justice system.
Instead, in the wake of this tragedy, some elected officials, including de Blasio, are succumbing to the heat of the political moment, calling for unnecessary legislative changes to criminal justice policy that will take us backward and fail to address problems within the criminal justice system that pose challenges to justice and public safety. They will create the illusion that we have addressed problems while also threatening to roll back important reforms to the Rockefeller Drug Laws that have improved safety and justice.
The nation is finally awakening to the crisis of mass incarceration. New York has led the country in reforming its criminal justice system, leading to both a drop in crime and a drop in the incarcerated population. The evidence shows that New York City's diversion programs work. Restraint is needed to avoid making rash, convoluted and contradictory proposals.
Below, we outline our concerns and propose a way to move forward:
PROBLEM 1: The mayor's diversion proposal threatens dangerous rollback of Rockefeller Drug Law reform.
The mayor's proposed changes to Article 216—to require public safety as a consideration for diversion in the Judicial Diversion Statute—is redundant, because consideration of public safety is already a robust requirement under the law.
When the governor and the Legislature enacted Article 216, they specifically and objectively addressed the very public safety issue that the mayor purports to address. They did so by:
• Disqualifying from eligibility for judicial diversion any person who had previously been convicted of a violent felony in the preceding 10 years.
• Disqualifying from eligibility any person who had previously been convicted of a second violent felony offense, or who was a persistent violent felony offender.
• Disqualifying from eligibility any person currently charged with a violent felony offense.
• Requiring that before allowing anyone into the diversion program, the court must make a specific finding that "institutional confinement is or may not be necessary for the protection of the public."