President Obama speaks on criminal justice reform in Newark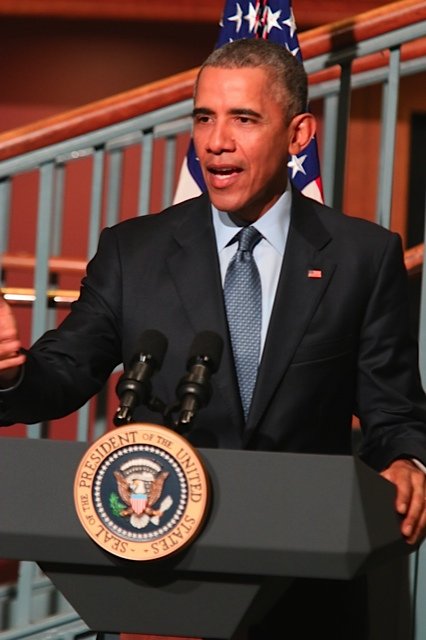 President Barack Obama traveled to Newark, N.J., this week to highlight the re-entry process of formerly incarcerated individuals who are working to put their lives back on track and earn their second chance.
The president was joined by Sen. Cory Booker and Mayor Ras Baraka and visited a residential facility, Integrity House and later convened a roundtable discussion at Rutgers University–Newark, Center for Law & Justice, where he delivered a statement.
"Right now, there are 2.2 million Americans behind bars—2.2 million," Obama said. "We incarcerate people at a rate that is unequaled around the world. We account for 5 percent of the world's population, 25 percent of its inmates. They are disproportionately Black and Latino."
Obama announced measures to help promote rehabilitation and reintegration. They include adult re-entry education grants, arrest guidance for public and HUD-assisted housing and legal services needed to help with record cleaning, expungement and related civil legal services.
"So my hope is, is that with the federal government also taking action, us getting legislation passed—this becomes a basic principle across our society," Obama said. "It is relevant to find out whether somebody has a criminal record. We're not suggesting ignore it. What we are suggesting is, when it comes to the application, give folks a chance to get through the door."
Booker said that the president's visit to Newark provides additional momentum to criminal justice reform initiatives locally and nationally.
"I am grateful for all of the Newarkers, community stakeholders and students who joined with us to make President Obama's visit to Newark exceptional," he said. "His visit places Newark in the unique narrative of criminal justice reform history and the president paid our city the highest compliment by saying that Newark is helping to lead the way."
Baraka added that crime can't be defeated by "arresting our way out of it." He said Obama's reforms deal with the causes of crimes and breaks the recidivism cycle.
"We recognize that to transform Newark, we have to transform our city's culture and the lives of our residents, particularly youth and re-entering offenders," Baraka said. "This is why we are addressing crime and violence in Newark as a public health issue, seeing that we must inoculate and vaccinate our residents to protect them from it."