Harry Belafonte's Gathering for Justice celebrates 10 years of criminal justice reform
11/12/2015, 1:40 p.m.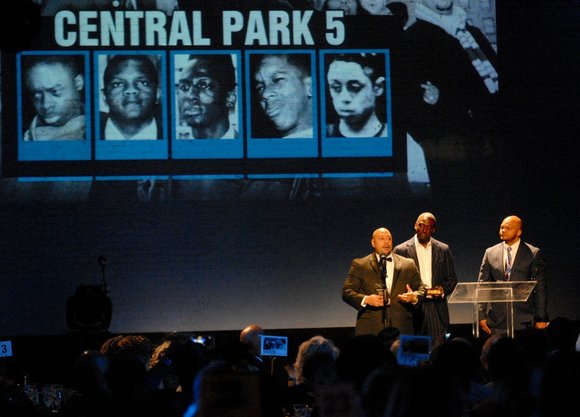 The Apollo Theater was the venue Monday, Nov. 9., where Harry Belafonte celebrated the 10th anniversary of the Gathering for Justice. The Justice Ball honored the organization's founder, as well as members of the "Central Park Five" and leading immigration advocate and co-founder of Inclusiv, Alida Garcia. The Justice Ball was co-chaired by George Gresham, president of 1199 SEIU; Steven W. Hawkins, executive director of Amnesty International; and Tonya Lewis Lee, noted author and filmmaker.
The evening began with a VIP cocktail hour, followed by a seated dinner, musical performances and an tribute co-hosted by TV One's Roland Martin. Guests enjoyed appearances and performances by John Batiste and Stay Human, "Empire" star Jussie Smollett, "Empire" songstress and powerhouse vocalist V. Bozeman, Trinidad soca superstar Machel Montano, rapper and activist Mysonne "NY General," emcee and community activist Jasiri X, social entrepreneur and artist Mike De La Rocha and the young people of Harlem's Impact Repertory Theater.