Panel discusses art's place in activism
Jhodie-Ann Williams | 11/12/2015, 10:55 a.m.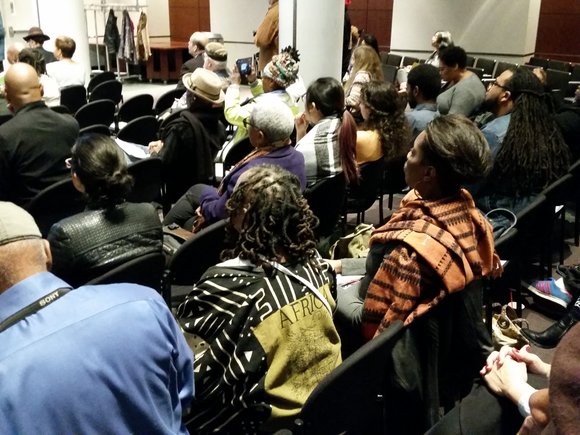 When King asked why his funding, along with the funding of other historically significant Black theaters, was suddenly being discontinued after almost 30 years, the department responded that the panel didn't get to see the work and doesn't know the work. When he inquired about who was on the panel, he discovered that they were all white.
"That's why we all have to always be vigilant and be aware of why these people say they're cutting our money," said King. "Make them tell us.
On a panel that decides who gets money for art and culture in a city that is known as the "melting pot" of the world, there are only whites.
"They don't know our art, they don't come to our institutions and they don't see the impact," said Vega. "They don't care to see it. It's so insidious. Our lives, our culture, our art, you name it, is eradicated and it's our insistence that it's not."
Turning art into political clout is important. If you want to see change, you have to be able to make an impact and challenge the government. Ademola Olugebefola, an artist, stage designer and co-founder of WEUSI Artists Gallery and Academy, who was also a panelist, explained that the concern is not a new one.
"It's a constant challenge that the creative community has," said Olugebefola. "Our ancestors have died for the right to vote, so don't waste their lives by not participating."
Although the three-paneled conference was heavily centered on the Black and the Nuyorican art experiences, Vega aimed to illustrate how a unified push against inequality of any kind yields results. The panel included artists, curators and activists from the Asian, white and Native American communities.
"It's important for us to realize that inequity is not only for one group, but has been for various groups that have been marginalized in our society," said Vega. "That includes Native Americans, European-Americans, African-Americans and Latinos. Anyone that this society considers 'other.'"
Vega is planning two more conferences about art and activism. For more information on "The Art of Justice" and upcoming events by CCCADI, please visit cccadi.org. To see a video of the event and a full list of panelists, please visit howlround.tv.