Pioneer Arthur Mitchell donates archives to Columbia
Zita Allen | 11/13/2015, 4:22 p.m.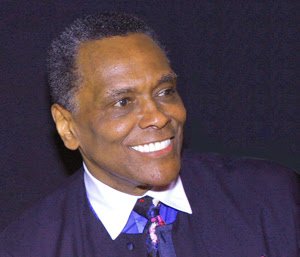 Arthur Mitchell, the pioneering ballet dancer, artistic director and choreographer who, in the 1950s, became the first African-American principal dancer with the New York City Ballet, was celebrated at Columbia University Oct. 27 and 28.

The occasion marked Mitchell's donation to Columbia University of his archive—a treasure trove of photographs, posters, clippings and correspondence with the likes of Igor Stravinsky, Josephine Baker, Alvin Ailey, Geoffrey Holder, Carmen de Lavallade, David Dinkins, Mikhail Gorbachev and Nelson Mandela. The archive also includes film footage and other material documenting an amazing life, a stellar career and the impact of a man whose life has helped change America's cultural landscape.
A recent two-day event titled "The Arthur Mitchell Project Symposium" opened with a retrospective of the career of this self-described "political activist through dance." The centerpiece was a conversation between Mitchell and friends, including icon de Lavallade, former NYCB ballerinas Barnard College dance professor Allegra Kent and Kaye Mazzo, a founding member of the George Balanchine Trust. Barnard professor and Dance Department Co-Chair Lynn Garafola moderated as Mitchell recalled how, when he was a young teen, dancer Mary Hinkson introduced him to the Katherine Dunham School, where future mentor and DTH co-founder Karel Shook taught ballet.
Mitchell also expressed heartfelt thanks to NYCB's founder and choreographer George Balanchine and co-founder Lincoln Kirstein when recalling his historic admission to NYCB and, years later, Balanchine's generous gift of his own masterpieces and more to Mitchell's fledgling company. Punctuating these and other moments were film clips of Mitchell partnering Hinkson in Balanchine's "Figure in a Carpet" or dancing with de Lavallade in Donald McKayle's classic "Rainbow 'Round My Shoulder." There was also a clip of Mitchell partnering with Allegra Kent in the "Agon" pas de deux that Southern TV stations refused to air because it featured a Black man performing with a white woman.
Sprinkled throughout the two-day event were similar historic facts, personal anecdotes and analytical insights that shed light on Mitchell's illustrious career and his tremendous impact on American arts and culture.
Tuesday, Oct. 27, three panel discussions also hinted at the key role Mitchell's archives would play in incorporating African-Americans' stories and impact into the history of ballet. One panel tackled the role Mitchell and DTH played in creating opportunities for other artists of color. Moderated by Pulitzer Prize-winning columnist, author and Columbia University professor Margo Jefferson, that panel included former DTH principle Karen Brown, one of the few Black women to serve as artistic director of an American ballet company (Oakland Ballet); Karyn Collins, Rutgers University journalism professor and dance critic; Robert Garland, DTH choreographer and former principal; Tania Leon, DTH founding music director and composer; and Vernon Ross, former DTH wardrobe master and designer, now currently with the Metropolitan Opera and Radio City Music Hall.
Another panel looked at the importance of Mitchell's creation of an institution that included not only the company but also a school and an outreach component. Moderated by Columbia professor of English and comparative literature Brent Hayes Edwards, it included former DTH principal ballerina and current Artistic Director Virginia Johnson, Pulitzer Prize-winning Washington Post critic Sarah L. Kaufman, Florida State University professor and former DTH dancer Anjali Austin and Garafola.
The third panel discussed the political, cultural and socio-economic turmoil of the civil rights era and its impact on Mitchell's decision to create DTH and debunk all the myths and buggaboos that plagued aspiring Black ballet dancers for so long. In addition, this panel grappled with ways to build on advances into this once taboo dance territory by Mitchell and, more recently, Misty Copeland. Kendall Thomas, Nash professor of law and director for the Center of Law & Culture at Columbia's School of Law, moderated a panel that included Zita Allen, Amsterdam News writer and the first Black critic for Dance magazine; Harlem Stage Director Patricia Cruz; Columbia University English and Comparative literature professor Farah Jasmine Griffin; and Brenda Dixon-Gottschild, author and Temple University professor emeritus.
Praising Mitchell for his decision to donate his archives to Columbia was former Columbia Law School Dean of Students and current Harvard Law School Dean of Students Marcia Sells. The archive is currently being sorted and catalogued thanks to funding from the Ford Foundation and is expected to be open to the public in 2017.
"I believe that dance, and the arts more broadly, can be used as a catalyst for social change—this is why I started the Dance Theatre of Harlem," Mitchell told one reporter. "With these materials now at Columbia, artifacts of American dance history and African-American history will be accessible to academics and the general public, furthering this change."