Donald Byrd's 'Minstrel Show' back in NYC
By CHARMAINE PATRICIA WARREN ,Special to the AmNews | 11/19/2015, 4:22 p.m.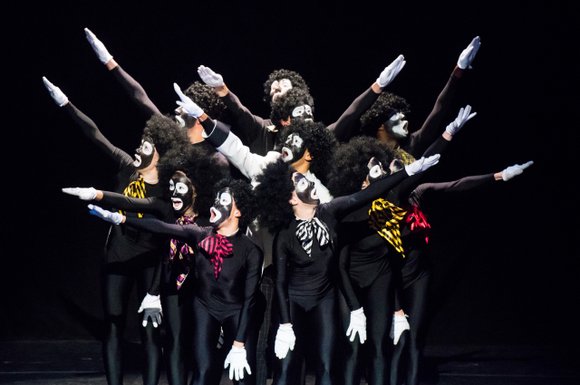 Minstrelsy is a difficult topic. The choreographer Donald Byrd agrees. The difficulty notwithstanding, minstrelsy is an important barometer of history when we look at the Black tradition in the performing arts. This indigenous American form of theater was performed by whites who donned blackface and denigrated Black people by caricaturing slaves in their everyday movement. The period lasted upwards of 20 years during the late 1800s.
It's been a long time since his company, Donald Byrd/The Group left New York. The company was founded in Los Angeles and settled in New York, spanning the years 1978 to 2002. Byrd became artistic director of Spectrum Dance Theater in Seattle in 2002.
It's also been a long time since Byrd's "Minstrel Show" was presented in New York. The year was 1991. Byrd came back, albeit for a short time, and he brought his "Minstrel Show," this time called "The Minstrel Show Revisited," and now, as then, as it will always do, the work awakens this grim reality.
The 11 dancers wore blackface for the first half, broached difficult racial topics, pushed the line with stereotyped innuendos and, with Byrd's insistence, dared—no, cajoled—the audience to join in. Byrd included the requisite song and dance man, the "Interlocutor," played wonderfully by Alex Crozier; the Mammy, in a quirky, yet pointed quartet danced by Andrew Pontius, Davione Gordon, Fausto Rivera and Micah St. Kitts; and the cast, in and out of a semi-circle as minstrels, who told and laughed at their own jokes and sang songs. One song had the refrain "Good ole Coon."

When Byrd makes an appearance in the first half, as himself, and later in blackface, he includes in his shtick the end pieces of the semi-circle—Mr. Tambo and Mr. Bones. In the second half, Byrd's attempt to bring his minstrel up to date and questions the current state of Blacks in America. Down front with music stands and two chairs, two performers read transcripts from the investigations of the shootings of Trayvon Martin and Michael Brown. Blackface is replaced by black hoodies, and in a more decided semi-circle, the chorus of modern-day minstrels keeps time with metered-gestures, punctuated by the banging of tambourines and sing-song responses to the readings.

Byrd's stories within the story include white domination: a sultry white woman in skimpy clothes, garter belt and blonde curls, with tambourines, seduces the Black man; a dummy with a noose around its neck suddenly drops from the ceiling; a Mammy tells of her "job" taking care of white children; a white woman (a debutant) rambles on and on as her Mammy dresses her; and a shackled slave boy, running and running, traces sharp lines around the space, falling and falling. The show is very long and the point is reached and was possibly felt early on.
"Byrd's Minstrel Show Revisited" ran from Oct. 28 to 30 at NYU's Skirball Center for the Performing Arts.