Travel tips of the trade
The busy holiday season is right around the corner, a time when many people take to the skies, roads, rails and seas to visit friends and family close to home and further afield. While packing your bags, consider also taking along some of these great travel tips offered by industry experts committed to making travel a safer, more pleasurable experience year-round.
SAVING MONEY FOR VACATION TRAVEL
Book airline tickets 57 days before a domestic flight and 171 days before an international flight. Why these magic numbers? It's when prices are typically at their lowest.
Look outside the mainstream destinations and pricey hotels for a location slightly off the beaten path or even in a short-term vacation rental. Not only could you save a lot of money but also you may enjoy a more unique experience with the locals.
Instead of booking a hotel room through their 800 number (which usually offers only set rates), contact the hotel directly for their rates, and then compare what they have to offer online, which may be cheaper.
Even if you only need a rental car for a few days, book it for five days instead to take advantage of the sometimes significantly lower weekly discount rates. You may also save money by returning the car to the same location from which you retrieved it.
For more of these expert tips, check out www.gobankingrates.com/personal-finance/save-money-vacation-travel-experts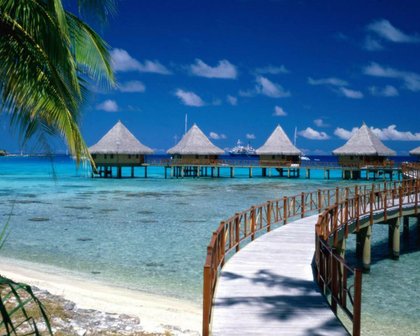 DON'T GET HACKED!
Identity theft is a huge problem all over the world, and it seems that with every new technological advance, the threat becomes even greater. Nevertheless, there are several things you can do to prevent identity theft while traveling.
Before you leave town, let your credit card providers know when, where and how long you will be traveling so their fraud department can place an alert on your account should charges come in outside of those parameters.
Use a credit card instead of a debit card, particularly when traveling to foreign countries. If someone does hack into your account, you won't lose all of your money before you discover it and have an opportunity to file a complaint with your credit card company and have those charges reversed. It is much harder, and takes longer, through a debit card account.
There are professional pickpockets out there, so don't take the entire contents of your wallet with you. Instead, take only the essentials—your driver's license and two debit and/or credit cards, one to carry and the other to lock up in the hotel front desk or room safe in case your wallet is lost or stolen.
Using social media to keep in touch with friends and family is great, but maybe not so much if you're going out of town. It is, unfortunately, very easy for hackers and identity thieves to find out where you live and have their way with an empty residence.
If you must access your financial information while traveling, be sure not to use public Wi-Fi networks at places such as a hotel, airport, coffee shop or restaurant or any type of public computer (i.e., in the hotel business center). The risk is just too great. Instead, place a personal call to the bank where they can verify your security information and take care of your issue. If you have to use a public computer, always make sure you are fully logged out before leaving.