B.P Gale Brewer hosts moment of silence for victims of Boko Haram attacks in Nigeria
11/21/2015, 11:34 a.m.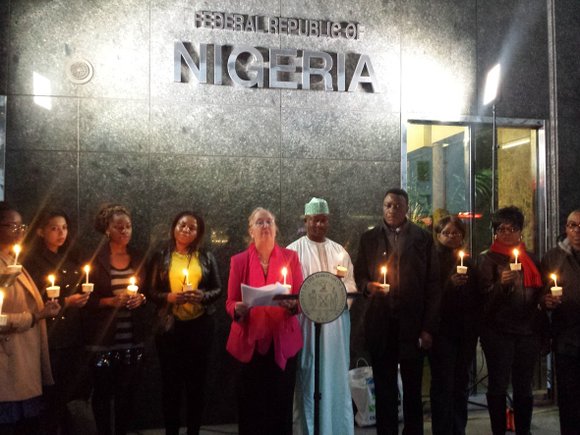 On Friday, Manhattan Borough President Gale A. Brewer hosted a community vigil and moment of silence for the victims of recent Boko Haram attacks in Nigeria, joined by Acting Consul-General Sa'ad Muhammad Bello outside the Nigerian Consulate General in Manhattan.
The vigil was in held for those lost during Tuesday's bomb blasts in the Nigerian cities of Yola and Kano claimed the lives of at least 49 people and injured at least 130 more.
"We're standing together with Acting Consul-General Bello in solidarity with the people of Nigeria, to express our deepest sorrow for those viciously murdered in the cities of Yola and Kano," said Brewer. "We grieve today for the Nigerian people and for all people around the world bravely standing up to brutal extremists."
Brewer and Acting Consul-General Bello were joined by members of Manhattan's African immigrant community and the Borough President's African Immigrant Task Force, including Nigerian-American community leader Joyce Adewumi. Ms. Adewumi serves as a member of Manhattan Community Board 9 and is the founder of the New York African Chorus Ensemble.
The Global Terrorism Index lists Boko Haram as the world's deadliest terrorist organization, responsible for 6,644 deaths in 2014, mostly in Nigeria and other northern African nations. Daesh, also known as "ISIS" or "ISIL," is ranked second.