Chicago officer who shot Laquan McDonald charged with murder
By Greg Botelho, Ashley Fantz and Bill Kirkos CNN | 11/24/2015, 11:46 a.m.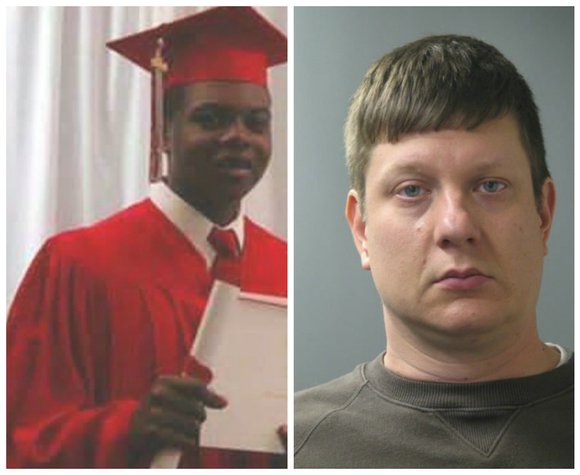 Authorities say McDonald, 17, was armed with a 3-inch knife when Van Dyke, who is white, confronted him. The teen did not comply with "numerous police orders to drop the knife," the officer's attorney, Daniel Herbert, told the Chicago Tribune. McDonald died after being shot 16 times.
"He's scared to death, but more than himself he's scared for his wife, his two kids," Herbert said of his client before charges were filed. "He knows in his heart of hearts that his actions were appropriate."
At an afternoon hearing Tuesday, a judge temporarily denied bond for Van Dyke. Judge Donald Panarese Jr. plans to make a final determination on bond during another court hearing set for next Monday, so that he can have time to view the video.
"People viewing this videotape will have the brilliance and benefit of hindsight 20/20 vision," Herbert told reporters, saying the case needs to be tried in court, not in the media or on the streets.
"This is not a murder case, despite what you heard in the courtroom. It's truly not a murder case and we feel that we will be very successful in defending this case," the attorney said.
Pastor: 'Many ... feel betrayed'
According to Alvarez, Van Dyke was on the scene for less than 30 seconds before he started shooting. Citing a motorist who witnessed the shooting, she said that McDonald did not do anything threatening toward Van Dyke and the other responding officers before he was shot.
McDonald appeared to be moving away from the officers, while Van Dyke took at least one step toward McDonald with his weapon drawn, she said. While McDonald was falling to the ground, the officer took at least one more step toward him.
Activists have blasted Van Dyke. Mayor Rahm Emanuel joined them, releasing a statement on the charges.
"Across Chicago there are thousands of police officers who protect our communities every day with the highest professional standards. As the State's Attorney made clear, Jason Van Dyke's actions violated those standards and also the moral standards that bind our community together. Rather than uphold the law, he took the law into his own hands and it's now up to the justice system to hold him accountable," the mayor said.
Emanuel met Monday with activists and community leaders to discuss the coming release and what it might mean for the city. A judge has ordered city of Chicago to release video of McDonald's shooting by Wednesday.
The Rev. Ira Acree said the mayor urged him and others to use their influence to ensure that any subsequent demonstrations are peaceful.
"Many in the community feel betrayed," Acree, a pastor at the Greater St. John Bible Church, told reporters after the meeting. "Protests are imminent."
Chicago Tribune columnist John Kass has said the video "could tear Chicago apart."
"Chicago is on the tipping point," the Rev. Roosevelt Watkins said, according to CNN affiliate WLS-TV. "We could be just like Ferguson."
Watkins was referring to Ferguson, Missouri, which imploded in protests and riots after a white police officer shot to death unarmed black teen Michael Brown in 2014. Unrest in the St. Louis suburb lasted for months afterward.
City reaches settlement with family
But what happened in Chicago differs from Ferguson in a few key ways.
McDonald was armed, unlike Brown.
Van Dyke confronted him knowing that McDonald had "punctured a tire on a police car," according to his attorney.
Another major difference is that McDonald's final moments were captured on video.
The city agreed in April to pay $5 million to McDonald's family, though the family had not filed a lawsuit.
McDonald was a ward of the state at the time of his death, according to a spokeswoman with the Illinois Department of Children and Family Services. A few days before he was killed, DCFS gave him over to the custody of a relative, she said.
CNN's Bill Kirkos reported from Chicago, and CNN's Greg Botelho and Ashley Fantz reported and wrote from Atlanta. CNN's Sonya Hamasaki, Jason Kravarik, Sheena Jones and Joshua Berlinger contributed to this report.