Chicago on edge after release of video of Laquan McDonald shooting
By Greg Botelho and Dana Ford CNN | 11/25/2015, 11:28 a.m.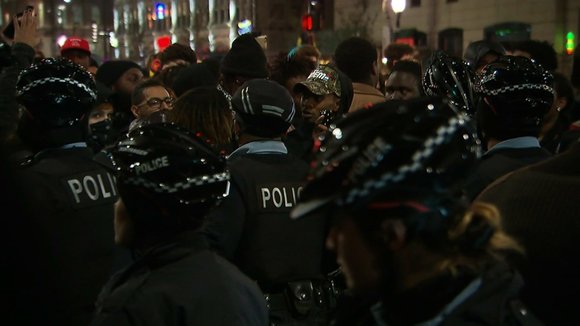 (CNN) -- Wednesday had been marked as the day Chicago officials had to release graphic dashcam video of 17-year-old Laquan McDonald's final moments and -- because of that -- the day the city could erupt.
It didn't happen quite that way, though the city is still simmering.
Protests, while filled with tension and passion, didn't lead to clashes with authorities or massive disruptions. One reason is that Jason Van Dyke, the Chicago police officer who shot McDonald 16 times on a city street, was charged on Tuesday with first-degree murder.
Still, the fact that it took 13 months for such action to be taken bothers many. And the video itself -- which came out shortly after Van Dyke appeared in court for the first time -- stoked the anger even more.
It shows McDonald running, then later walking down the middle of a street. He heads toward some police cars with flashing lights, then veers away. It's then that he appears to spin around and falls, brought down by a barrage of bullets. There were 16 shots fired over 15 seconds, all by Van Dyke.
Statement from Rev. Al Sharpton
"I don't understand how, even if the prosecutor needed time to go through the evidence, the Police Superintendent and others who saw this tape, did not immediately fire Officer Van Dyke. They did not need a prosecution to terminate him. Were there politics involved? Though clearly I only advocate non-violent protest, the community needs straightforward answers and the city needs to be forthcoming about why this dragged on so long. NAN is committed to dealing with the issue of violence in the Chicago – and that will not waver – no matter who is responsible for perpetrating these completely unacceptable acts."
The officer's lawyer, Daniel Q. Herbert, has admitted the video is disturbing. But talking to CNN's "New Day" on Wednesday, he insisted that it doesn't tell the full story -- including that his client "truly was in fear for his life, as well as the lives of his fellow officers."
"Video by nature is two-dimensional and it distorts images," Herbert said, claiming Van Dyke has given him a better sense of his own perspective at the time. "So what appears to be clear on a video sometimes is not always that clear."
Others don't see it that way, though. Yes, McDonald had a 3-inch knife and, according to toxicology tests, had PCP in his system. Yet authorities haven't indicated he'd threatened anyone, nor was he within 10 feet of anyone at the time the shots rang out. Several other officers were at the scene with Van Dyke, and none of them fired any shots.
Cook County State's Attorney Anita Alvarez said Van Dyke had been on site less than 30 seconds, and out of his car for six seconds, when he started shooting.
"The officer in this case took a young man's life," Police Superintendent Garry McCarthy said Tuesday. "And he's going to have to account for his actions."