Iconic songwriter, musician Allen Toussaint dies at 77
Ron Scott | 11/26/2015, midnight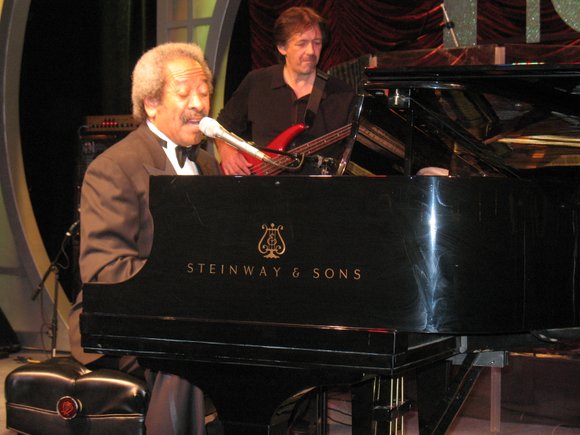 Allen Toussaint, the pianist, songwriter, arranger and record producer whose whimsical, funk-laced songs influenced the New Orleans R&B scene, died Nov. 10 while on tour in Madrid.
He suffered a heart attack at his hotel room after appearing in a concert, as confirmed by his daughter Alison Toussaint-LeBeaux. He was 77.
A long string of Toussaint's R&B compositions became international hits. Over his illustrious career he was inducted into the Rock and Roll Hall of Fame in 1998, and the Louisiana Music Hall of Fame in 2009. In 2011, he was inducted into the Blues Hall of Fame, and two years later, President Barack Obama awarded him the National Medal of Arts at the White House.
After the terrible devastation of Hurricane Katrina, Toussaint relocated to New York City. With a reputation that preceded him, he made regular appearances at Joe's Pub in the East Village. In response to the hurricane's destruction, he and Elvis Costello collaborated on the recording "The River in Reverse," which was nominated for a Grammy Award for Best Pop Vocal Album.
Toussaint was born Jan. 14, 1938, in Gert Town, a working-class neighborhood of New Orleans, to Naomi Neville and Clarence Toussaint, a railway worker, where he lived throughout his life with the exception of his brief relocation to New York City. He was self-taught on the piano. As a teenager he played in a band called the Flamingoes with the blues guitarist Snooks Eaglin, one of his early inspirations.
Often in interviews, Toussaint credited Professor Longhair as being a great influence on his playing style, which later included the trimmings of Fats Domino and Huey "Piano" Smith.
At age 17, Toussaint was given his first gig when he sat in for Smith. He later met Domino's producer Dave Bartholomew, who was also a noted New Orleans R&B songwriter during the 1950s. He hired Toussaint to lay down piano parts for a few Domino recording sessions.
The young pianist later arranged the hit "Walkin' With Mr. Lee" for saxophonist Lee Allen. In 1958, Toussaint recorded an instrumental album, "The Wild Sound of New Orleans" (RCA), under the alias Tousan. His original composition "Java," co-written with Alvin Tyler and Freddy Friday, became a No. 4 pop hit for the jazz trumpeter Al Hirt in 1964.
In 1960, Toussaint was hired by Joe Banashak for the Minit Record label, where he became the house producer, arranger and songwriter. It was at this label that Toussaint built his successful house of soul.
His first national success as a producer came with Jessie Hill's R&B No. 5 hit "Ooh Poo Pah Doo" in 1960, followed by Ernie K-Doe's pop and R&B No. 1 "Mother-in-Law" (Toussaint's original), Benny Spellman's "Fortune Teller" and "Lipstick Traces (On a Cigarette)"—both Toussaint tunes written as Naomi Neville, the maiden name of his mother. The latter was covered by the Rolling Stones. He also produced Chris Kenner's original version of "Land of 1000 Dances," Lee Dorsey's "Ya Ya" and many cuts with New Orleans soul queen Irma Thomas.