Dance calendar October 2015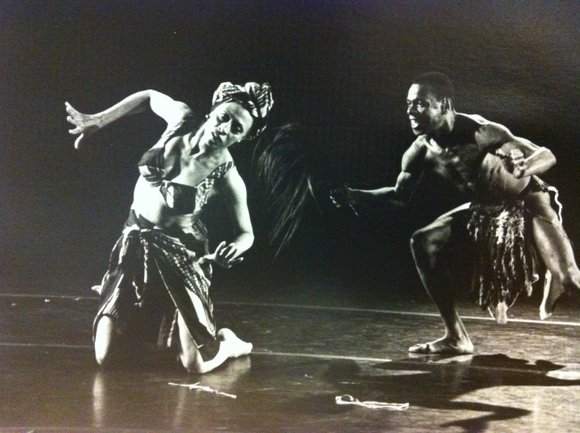 Oct. 4: Pentacle's "Fall Further IV" series comes to Dixon Place with performances by Bill Young/Colleen Thomas & Co., danceTactics Performance Group, Dante Brown | Warehouse Dance, Indah Walsh Dance Company and Lorraine Chapman the Company. For more information, visit www.pentacle.org.
Oct. 6: The recurring series "Under Exposed" at Dixon Place, curated by Doug Post, will showcase Cameron McKinney, Stephanie Franck, Sophie Sotsky and Brendan Duggan / LoudHoundMovement. For more information, visit www.dixonplace.org.
Oct. 6-8: Bharatanatyam dancer-choreographer Aparna Ramaswamy makes her Joyce Theater debut with "They Rose at Dawn," a solo performance where "women are depicted as carriers of ritual who navigate inner and outer worlds as they invoke a sense of reverence, of unfolding mystery, of imagination," according to the release. For more information, visit www.joyce.org.
Oct. 8-11: The 2015 DUMBO Arts Festival, to be held at the Gelsey Kirkland Arts Center, will feature a wide range of artists, including Thomas/Ortiz Dance, Kyle Marshall Choreography, Sun ae Hwang/SUNPROJECT, Yuka Kawazu/Danse En L'Air, Company SBB, Alenka Cizmesija, Birds of a Feather: Aerial Duo, Ju Hwan Hwang, Joori Jung/ARTLAB J DANCE, Emily Bufferd, Buglisi Dance Theatre, WHITE WAVE Young Soon Kim Dance Company and more. For more information, visit www.whitewavedance.com.
Oct. 12: Misty Copeland and filmmaker Nelson George will have a screening and conversation surrounding their film "A Ballerina's Tale" at the 92nd Street Y. For more information, visit www.92y.org
Oct. 13-18: The Apollo Theater again hosts "Breakin' Convention: An International Festival of Hip-Hop Dance Theatre," featuring Les Twins (France), Rennie Harris Puremovement (Philadelphia), BirdGang Dance Company (U.K.), NL2 Formerly known as Next Level Squad (Brooklyn, N.Y.), Compagnie Phorm (France/Argentina), the Ruggeds (Holland), Tito Lockers from Soulsations! (New Jersey), Antoinette Gomis (France), Klassic and Havoc (Brooklyn, N.Y.), Street Justice Crew (New York City), Rep Your Style (New York City) and Legendary Twins (Bronx, N.Y.). For more information, visit www.apollotheater.org.
Oct. 14: The documentary on Misty Copeland, "A Ballerina's Tale" by Nelson George under Sundance Selects, will be released in theaters and On Demand. The film follows Copeland from her lead performance in Igor Stravinsky's "Firebird," through her painful injury and recovery, to her return to ABT, and examines issues of race and body image in the elite ballet world. For more information visit www.aballerinastale.com
Oct. 22-24: Lincoln Center's "White Lights Festival" and Baryshnikov Arts Center presents British choreographer/dancer Aakash Odedra in the U.S. premiere of two solos rooted in personal experience: "Inked," inspired by his grandmother's tattoos, choreographed by Damien Jalet, and "Murmur," a collaboration with Australian choreographer Lewis Major, portraying Odedra's experience of being dyslexic. For more information, visit www.lincolncenter.org.
Oct. 29-31: Donald Byrd returns to New York with the premiere of "The Minstrel Show Revisited," a reworking of his 1991 Bessie Award-winning dance-theater production that "takes a satirical look at the derogatory song and dance tradition of minstrelsy," according to the release. Performances will take place at NYU's Skirball Center for the Performing Arts. For more information, visit www.nyuskirball.org.