Pope's strong message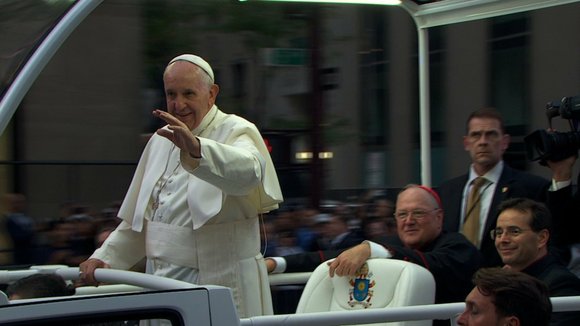 Special to the AmNews
The sun had not yet set when Ray Van Dyke and sister Nicky Morey left his home in New Jersey for Manhattan Friday morning, hoping to get a glimpse of Pope Francis after his address to the United Nations General Assembly.
Both had been standing a block away from the international organization's headquarters around 7 a.m., along with dozens of other Catholics, before the Holy Father ended his speech around 11 a.m. for a scheduled event at noon.
"Are you ready?" Morey, 74, asked her brother, 75, before they took a selfie, using the U.N. as the backdrop.
"He's so loved," she said of the pope, the first Latin American and Jesuit to lead the Roman Catholic Church. "I saw John Paul II when he came in 1979 to Des Moines, Iowa. It was a lot closer, and he had mass on a big field. We love Pope Francis, but obviously you can't get close enough [to see him]."
Pope Francis' visit to the Empire State comes three days after he touched down at Andrews Air Force Base near Washington, D.C., where he was welcomed by President Barack Obama, Vice President Joe Biden and their wives and children.
His historic six-day scheduled visit brought him to Capitol Hill last Thursday, where he became the first pope to address a joint session of Congress. He urged lawmakers to cooperate "generously for the common good." The pontiff also touched on hot-button issues he has been addressing throughout his papacy, including tolerance, climate change, immigration reforms, inequality and the ongoing refugee crisis in Europe.
These issues, specifically his plea to embrace millions of undocumented immigrants, resonate with people such as Yamiesis Eraldo, who is from the Dominican Republic.
"He has been very outspoken on this issue," said Eraldo as she stood outside the U.N. Friday morning. "It's important [for immigrants to get] more support. I find his messages engaging. Just the way he talks."
Van Dyke is receptive of the pope using his pulpit and diplomatic status to advocate for "real issues."
"I'm glad to see him speaking out, because [society] is too obsessed with the 'separation of church and state' [notion]," he said. "With him and Obama putting their hands around each other, it sends a message not only to the U.S., but the world."
Pope Francis' visit brought tight security but also a festive atmosphere. From corner to corner near the U.N., young and old stood in groups as NYPD officers and Secret Service agents directed the busy traffic. Others lined up a block away from the East River, which flows past the U.N., holding their cellphones above their heads in an attempt to take a photo of the pope when he exited the building.
"Being here is important to me because of the Catholic faith, and the pope is an important figure to us," said Tatiana Columbus, who is from Miami. "He talks about world issues in a diplomatic way and sending the right message. He's very unpredictable, I like it."
The pope is back at the Vatican after a 10-day historic visit to Cuba and the United States. Before his departure to the Vatican Sunday night from Philadelphia, after a mass with tens of thousands, he visited a correctional facility, where he met approximately 100 inmates. He greeted them one by one and encouraged each to use his time to get his life back on track.
"It is painful when we see prison systems which are not concerned to care for wounds, to soothe pain, to offer new possibilities," the Argentinian pontiff said. "It is painful when we see people who think that only others need to be cleansed, purified, and do not recognize that their weariness, pain and wounds are also the weariness, pain and wounds of society."