Camille A. Brown presents 'Black Girl: Linguistic Play'
Christina Greer, PH.D | 10/2/2015, 11:15 a.m.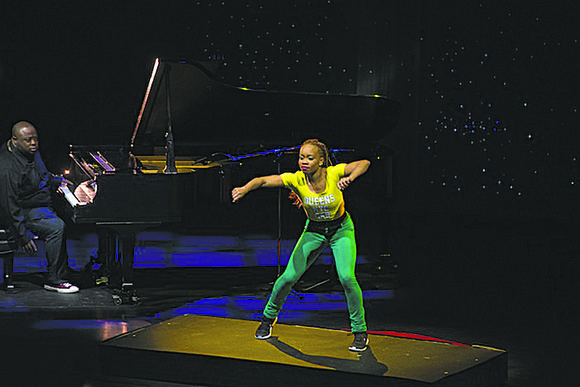 Last week, I saw Camille A. Brown's "Black Girl: Linguistic Play." I had casually seen the ads for the show but never made time in my schedule. My colleague, the scholar, dancer and girls advocate Aimee Cox, invited me to the show and I wearily went. As I headed to the Joyce Theater, all I could think about was how late I would get home, how early my day started the following morning, and how ill prepared I was for how chilly the weather had gotten. I had no idea I was about to experience one of the most powerful representations of Black girlhood I have ever witnessed. Brown created a moving masterpiece that was a narrative of Black adolescence never conceptualized before.
Black dance has evolved into a respected art form, and Black dancers represent a diverse range of body shapes, complexions and companies across the country and globe. Alvin Ailey dancers, Misty Copeland and the Ronald K. Brown dancers are just a few showing the world the beauty, grace, fluidity and diversity of the Black female body. After witnessing "Black Girl," I can't imagine what it must feel like to create a performance that simultaneously tells a universal tale of Black girlhood while also creating an individual expression of growth, love, fear and evolution.
I am not a scholar of dance, adolescence or girlhood. For that, I will defer to Cox's thorough review of the show on thefeministwire.com and her scholarship in "Shapeshifters: Black Girls and the Choreography of Citizenship" (Duke University Press, 2015). However, I was once a Black girl. I have experienced the cold realities of the world through the eyes of a Black girl. I know what it is like to have centuries of non-Black girls tell my story. I know that the adage, "the women are white and the Blacks are men," still holds true in many ways. At the end of the performance, Brown addressed the crowd and explained why she created this hour-long reflection. She said she gave herself "the permission" to tell her own story—our story.
Brown spoke of the words often used to describe Black girls, "loud," "angry," "strong," to list a few. She lamented about never once hearing a Black girl described as human. In "Black Girls," she poetically choreographed the humanity of Black girls everywhere, the unique struggles that are just our own and the quiet places where we find sisterhood and ways to love ourselves. I have never had an experience where literally I could not believe what my eyes were witnessing. I saw my past and reminisced about friendships gained and lost. I saw my struggles with identity of all facets. And I saw my humanity. I often hear that youth is wasted on the young. In Brown's moving masterpiece, she reminded the theater full of Black women that our youth was not wasted; it was a poem of struggle, solidarity and humanity. And for that, I am forever indebted for that reminder.
Christina Greer, Ph.D., is a tenured professor at Fordham University and the author of "Black Ethnics: Race, Immigration, and the Pursuit of the American Dream." You can find her on Twitter @Dr_CMGreer.