Smithsonian acquires hip-hop photography collection 
Jordannah Elizabeth | 10/8/2015, 11:59 a.m.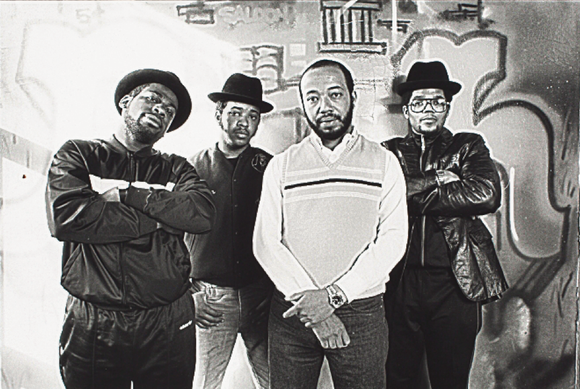 Over 400 photographs compiled by music historian Bill Adler for the Eyejammie Hip-Hop Collection have been acquired by the Smithsonian's National Museum of African American History and Culture. The collection will be housed at the Earl W. and Amanda Stafford Center for African-American Media Arts and is the largest collection of photographs that has ever been taken on by the Smithsonian African American media sector. 
The Eyejammie Hip-Hop Photo Collection was originally displayed at the New York-based gallery Eyejammie Fine Arts Gallery between 2003 and 2007. 
The Smithsonian released a statement describing the collection and the intentions of the museum's exhibition of the collected hip-hop artifacts: 
"Fifty-nine contemporary photographers are featured in the collection, including prominent artists from the beginning of the hip-hop revolution: Ricky Powell, famous for his images of old-school hip-hop artists such as the Beastie Boys, Slick Rick and Eazy-E; Harry Allen, a hip-hop activist and early photographer of Public Enemy; Michael Benabib, whose work was the first to show in the Eyejammie Gallery and is compiled 'In Ya Grill: The Faces of Hip Hop,' which holds images of Tupac Shakur, Sean Combs, Mary J. Blige and others; Jonathan Mannion, known for his iconic album covers such as DMX's 'Flesh of My Flesh, Blood of My Blood'; and Janette Beckman, whose work is currently featured at the Museum of the City of New York and in her book 'The Breaks: Stylin' and Profilin' 1982 to 1990.'
"NMAAHC's permanent music and performing arts collection explores the breadth and depth of hip-hop culture and includes objects that represent a multitude of communities, perspectives, and experiences in hip-hop, both historical and contemporary. The collection includes Saul Williams' poetry journal, a Public Enemy S1W uniform, Slick Rick's birth certificate, J Dilla's MPC and Moog, MC Lyte's Sha-Rock T-shirt, sketchbooks and art by Dondi White and the track sheet for the 'Ladies First' recording session. Hip-hop will be featured prominently in the museum's inaugural exhibition, 'Musical Crossroads,' an exhibition that will tell the story of African American music from its earliest incarnations to the present day."
Rhea Combs, curator of photography and film, stated, "We are thrilled that this rich trove of images from the Eyejammie Hip-Hop Photography Collection is at the museum. Hip-hop culture is integral to the contemporary American experience, and it is only fitting the museum document and explore this crucial part of cultural history with global impact. The range of photographs from some of today's top contemporary photographers reflect hip-hop culture from its earliest stages to the present. This wonderful array of images reflects the excitement and dynamism of hip-hop culture, while also providing an important addition to the museum's permanent photography collection."