Cuomo visits Bedford-Stuyvesant to discuss new special prosecutor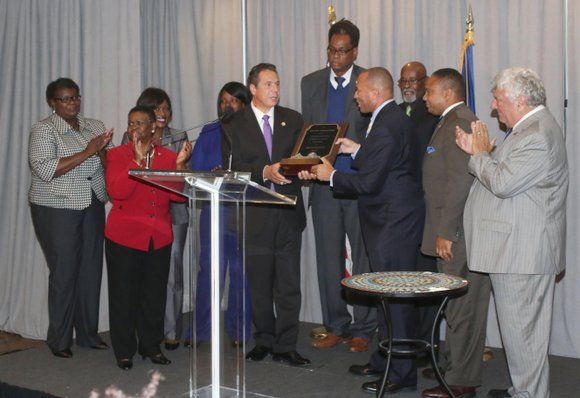 Central Brooklyn elected officials and community leaders welcomed Gov. Andrew Cuomo to Bedford-Stuyvesant to discuss his designation of New York Attorney General Eric Schneiderman's office to investigate police shootings. Officials present included Rep. Hakeem Jeffries, who introduced the governor, Council Member Robert Cornegy Jr. and Assemblywoman Annette Robinson, who both represent Bedford-Stuyvesant and gave remarks. Other officials present were state Sen. Jesse Hamilton, Assemblymembers Diana Richardson, Latrice Walker and Roxanne Persaud and former City Council Member Albert Vann.
Jeffries reminded the audience of unarmed African-American men killed by the police, including Eric Garner, Sean Bell and Amadou Diallo, and the importance of this action by the governor.
The governor emphasized how important his executive order is to restoring the confidence in the NYPD by communities of color.