Family of Mohamad Bah petitions DOJ for justice
10/9/2015, 12:46 p.m.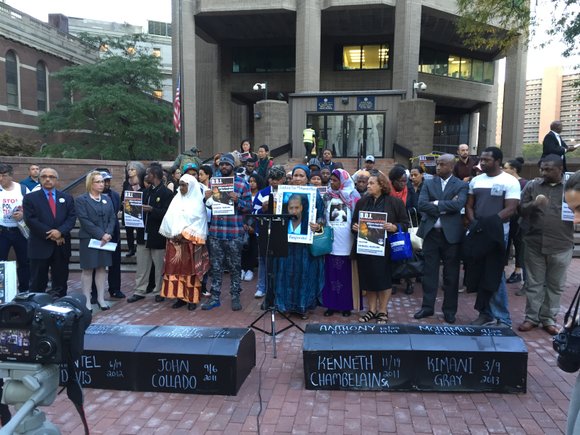 Wednesday, the mothers of Eric Garner and Ramarley Graham stood beside Hawa Bah, whose son Mohamed Bah was killed by the NYPD in 2012. The group rallied outside the Department of Justice Southern District for action in Bah's case.
Hawa Bah called 911 to request an ambulance for her son, who she believed was in physical and mental distress. Instead of an ambulance, NYPD Emergency Services Unit officers arrived. Despite her pleas, the officers forced their way into her son's apartment with guns drawn and shot him eight times.
The NYPD claims Mohamed Bah had a knife, but no knife has been made available to the family's attorneys.
A little more than a year after Mohamed Bah's death, a Manhattan grand jury failed to indict any of the officers responsible. The case has been stalled with the DOJ.
The Bah family's attorneys and supporters say the facts of the case, including new evidence uncovered through the civil suit discovery process, proves the NYPD unjustly killed Mohamed Bah in cold blood then covered up the crime. Specifically, they say a recent analysis of the autopsy contradicts the NYPD officers' stories, suggesting Mohamed Bah was shot execution style.