Sisters Building Sisters hit the pavement to stop domestic violence
JHODIE-ANN WILLIAMS | 10/9/2015, 1:07 p.m.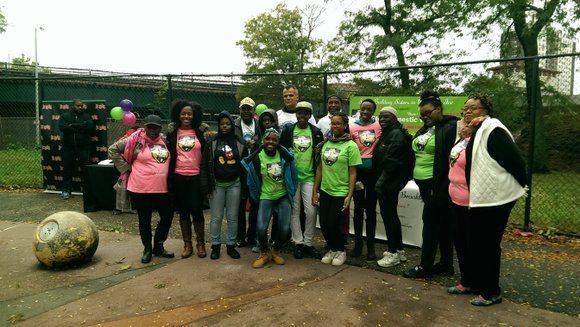 As the wind and rain whipped through the afternoon air in East New York, a bullhorn was passed throughout the walking crowd to anyone who wanted to spread a message, and the faint voice of a 5-year-old could be heard chanting, "Stop domestic violence," while she held onto her mother's leg.
Sisters Building Sisters in Brooklyn's second annual Walk to End Domestic Violence in East New York and Abroad, led by founders Rosalyn McIntosh and her daughter Nyasha Adams Rivera, took place despite the weather conditions this past weekend.
"People kept calling to see if we were going to still have the walk, but I decided, rain or shine, we would be walking to take down the global monster of domestic violence," said McIntosh.
The feeling was shared among the attendees, which included members of Man Up, Jericho Road and Monday Night Therapy, a weekly soccer group.
According to statistics, domestic violence is more prevalent in low-income neighborhoods where unemployment is on the rise. SBSB focuses on empowering those in underserved communities who don't have the knowledge or resources to get help.
"Domestic abuse is a byproduct of oppression, and oppression of any type is wrong," said Herve Bertrand, a member of Monday Night Therapy, as he walked with SBSB. "Education of any type is important. If two people are talking about it, it's important."
Educating women and young girls on how to recognize unhealthy behaviors and how to build confidence is one of SBSB's missions. According to the Institute on Domestic Violence in the African American Community, the percentage of Black youth who experienced being "hit, slapped or physically hurt on purpose" is double in comparison to their white counterparts. SBSB's mentorship program for the youth is a preventative measure that its founders have made a priority.
The mentees were at the forefront of the walk, lending their voices to a cause that has riddled their community. It was evident that they were enthusiastic about paying forward what they have learned. Jazmine Jada Scott Brayboy, 18, has been involved with SBSB's mentorship program for three years.
"For me, it was kind of my self-esteem and my attitude, and since I've been in the program I've seen that changing in myself," said Brayboy. "I'm more outspoken."
Although she hasn't dealt with domestic violence personally, her parents did when they were younger—at the start of their relationship—and she wants to help others who may be in toxic relationships.
"I like to give back to my community, and I support the cause of supporting domestic violent victims because I feel like if you're in a relationship that you want to get out of, you'll have people there who can help you through the process," said Brayboy.
One mentee who led the walk, bullhorn in hand, was 16-year-old Deanna Wallace. The charismatic teenager, who hasn't dealt with domestic violence, recently joined the mentorship program. She expressed the importance of everyone coming together and wasn't going to let the rain or wind deter her from making an impact.