Smell it, flip it, snap it, zip it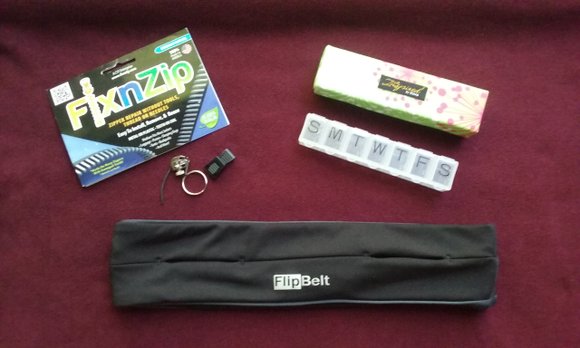 Oh yeah, there are a lot of new, great travel necessities on the market these days, and as you can see from my article title here, they are quite exciting as well! Take a gander at these great finds.
Aromaflage
As much as I love warm weather, I have to admit that I don't like a few things that come with it, namely humidity, the need for constant reapplication of deodorant and bugs, especially mosquitos, chiggers, and those pesky no-see-ums that give you a classic Sugar Ray "stick and move" punch, leaving a welt that itches for days.
And although there are some very good insect repellants on the market, many of them contain potentially harmful ingredients. But now there's a new product called Aromaflage that combines both fragrance and function. Inspired by the ancient Southeast Asian practice of using aromatic essential oils to repel insects, Aromaflage offers the effectiveness of a great repellant with the fine fragrance of a scented candle or perfume. Free of DEET, chemicals and parabens, it is perfect for working in the yard or garden, camping, sitting on the porch or using while on the road. It comes in different scents in small travel and large home sizes, as well as in a wearable perfume bracelet and candles.
508-205-9866, www.aromaflage.com
FlipBelt
I think I've developed a travel gear addiction! I'm not one for collecting stuff just for the sake of collecting, but there are some great products out there that really do help make both "regular" and travel life quite a bit easier. This sentiment is exactly what came to me when I got my new FlipBelt.
Made from a special Micropoly-Lycra blend that is anti-bacterial, moisture-wicking and machine washable, FlipBelt is a very comfortable, non-binding tubular shaped workout belt with side openings where you can slip in your cellphone, keys, tissues, lipstick—anything small you want to keep on you but don't necessarily want to have in your pockets or your hand.
Once you put those items inside, just flip it over so the openings are against your body and it will hold everything securely but not tightly, making FlipBelt perfect for walking, running, cycling, dancing, as well as doing anything or going anywhere you'd like to be hands-free yet have your items, including small medical devices, handy. It also comes in 10 great colors and five different sizes.
888-757-3547, https://flipbelt.com
StyleRX
I do a pretty great job, I think, of staying healthy both at home and on the road—the latter including taking my vitamins and any current prescriptions with me to help keep my body well. What I don't do so well is just counting out the number of tablets I need and throwing them into a plastic baggie inside of my makeup bag. When I arrive at my destination, yep, they are all mushed together, and quite frankly, some will be indiscernible from the next. So instead of just buying one of those cheap plastic drugstore pillboxes marked with M, T, W, etc., I got a beautiful StyleRX.