WNBA Finals in high gear
Lois Elfman | 10/9/2015, 1:11 p.m.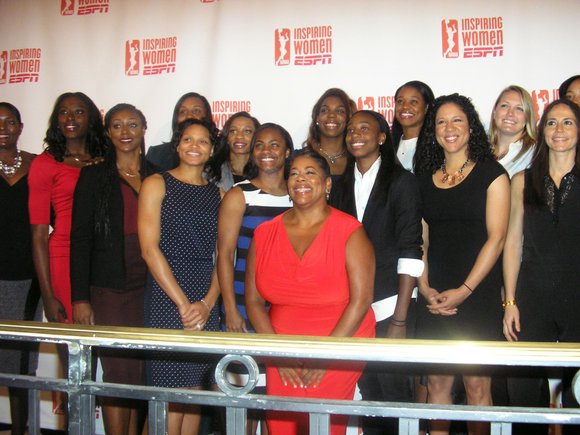 The Indiana Fever and Minnesota Lynx are tied at one game a piece in the WNBA Finals. In game one in Minneapolis, the Fever came out aggressive and pulled away 75-69. Knowing that no team has ever come back from losing the opening two games since the league went to the five-game format for the Finals, the Lynx charged back 77-71 in game two.
Meanwhile, offseason has already started for the New York Liberty players. Tina Charles will be playing in Xinjiang, China, which has a shorter season than Europe, so she'll get to spend some quality time at home before heading to the Far East. Swin Cash will stay in the New York area, making some team appearances and being part of the first women's sports TV talk show, "We Need to Talk."
Epiphanny Prince will be returning to Kursk, Russia, which has become her home away from home. Forward Rebecca Allen, whose rookie season was cut short by a knee injury, continues to rehab at home in Australia. Rookie guard Brittany Boyd, who suffered a wrist injury late in the season, is also undergoing rehab. Kiah Stokes, who received two postseason honors—WNBA All-Defensive Second Team and WNBA All-Rookie Team—will play for the Yongin Samsung Life Blue Minx in South Korea.
Essence Carson, who returned to form this WNBA season after a knee injury in 2013, will play for Canik Belediyesi in Turkey. Center Carolyn Swords will head down under to play for the Sydney Uni Flames in Sydney, Australia. Post player Avery Warley-Talbert will head to Turkey. Shortly after the Eastern Conference Final, veteran guard Candice Wiggins traveled to Hawaii to take part in a WNBA fitness clinic then headed home to Southern California. Oct. 20, she'll be inducted into her high school's hall of fame.
Last week, the WNBA held its annual Inspiring Women Luncheon. The honorees included Mary Lou Jepsen, co-founder of One Laptop per Child; three-time WNBA MVP Sheryl Swoopes; and Dr. Helene D. Gayle, CEO of McKinsey Social Initiative.
"The WNBA is a very special organization, not just because it represents wonderful women athletes, but because they also consider being role models, inspirations and citizens part of their mission," said Gayle. "It's pretty awesome and humbling to be honored by them."
Finals play continues Friday in Indianapolis.