'From Black Face to Black Panther' looks at people of color in comics
By VLADIMIR ESTIMABLE | 10/15/2015, 4:09 p.m.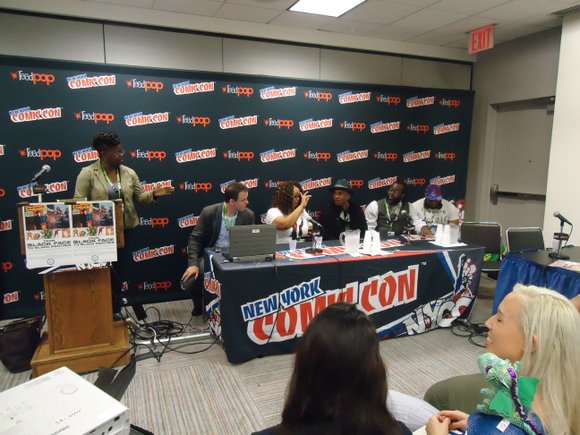 According to the Comic Con website (NYCC.com), in the depiction of people of color in the world of comics, "There have been some very positive changes recently, with Samuel L. Jackson as Nick Fury, the announcement of the upcoming Black Panther movie, the Luke Cage series on Netflix, the relaunch of Ms. Marvel in print as a teenage Islamic girl, Jada Pinkett Smith in 'Gotham' and both Will and Jaden being rumored for upcoming superhero movies. While all of that is to be celebrated, there is still a long way to go, as the genre is still primarily white-male-geek driven. As movies and TV begin to tap into the genre in a major way, there still needs to be constant vigilance on how persons of color are portrayed and who is writing their stories."
The Comic Con panel addressing this issue included speakers Avery Thompson (comic artist), the Rev. Chris Eden (pastor), Dumas Thompson (music producer), Eric Dean Seaton (creator of the Mantamji comic series), Jamie Broadnax (creator of blackgirlnerds.com), Joe Miller (owner of the Comic Store) and Shayna Watson and Todd Spidle (editorial staff artists at Lancaster Newspapers). They explained their experiences in the industry when dealing with titles that have an African-American focus.
In comics, when a main protagonist was a person of color, he or she was not always warmly received, which resulted in poor sales for those issues and which, in turn, was reflected in poor circulation numbers. Also, because of the social climate from the 1930s through the 1960s, certain titles depicted African-American people negatively, thus ensuring that comics featuring African-American protagonists wouldn't sell.
Often, protagonists of color were written in such a way that they seemed to discover their newfound abilities only after involvement in a crime. A good example of this archetype is a comic and cartoon series called "Static Shock," in which a character named Virgil Hawkins becomes a superhero in the inner city. It is suggested that he becomes endowed with electromagnetic powers during an act of gang violence in which he is directly involved. Or, using that same trope but with an older intellectual property, in the reboot of "Ultimate Spiderman," the protagonist, Miles Morales, gets his powers from a spider that was hiding in his uncle's bag—the same bag that his uncle, a known cat burglar, used when he robbed Ozcorp.
And the problem is not just with comics; it's pervasive in films as well. Seaton explained that when he is in a conference room with several TV and movie executives and he is the only person of color, he feels the responsibility of representing a whole demographic of people, especially during times when certain jokes or scenes are proposed that might be potentially offensive, and that is a lot of pressure for any one person to bear. He went on to say that if there is prominent change in depictions of people of color in the comic and film industries, there should also be people of color in charge of managing the product, thus creating a more natural perspective for the audience.
For more information on these speakers, please visit blacknerdgirls.com, Ericdeanseaton.com, lancasteronline.com and comicstorepa.com.