Cary's 'Harlem Sessions,' AACM 50th anniversary
Ron Scott | 10/15/2015, 4:23 p.m.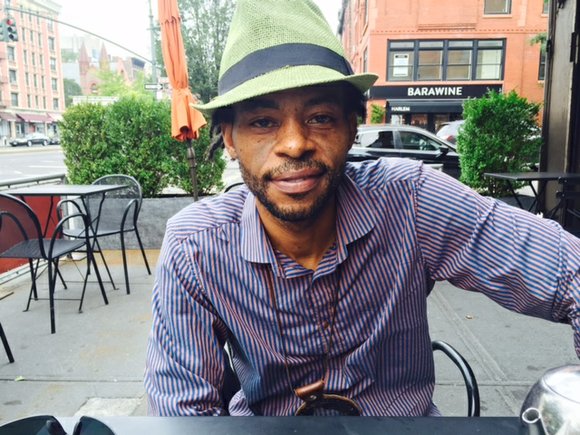 Tiny pin-lights adorn the steep narrow staircase ascending to the top, where a young lady sits, politely greeting and taking cash ($10). As one pays, a thick black curtain blocks the view from the inside, although the enticing music, cheerful chatter and clinking glasses can be heard, which only peaks your anticipation of getting behind that curtain.
Suddenly, you are in and the place is all abuzz. The music is swinging with a hip funkness of jazz entanglement. You have stepped into the Gin Fizz Lounge (308 Lenox Ave.). Every Thursday night, beginning at 10 p.m., the pianist, bandleader and composer Marc Cary leads the house band through an exploration of his "Harlem Sessions."
During these weekly sessions, the cozy, dimly lit lounge overflows. The choice seats surrounding the stage are the first to go, followed by the bar seats, where a few may be noticed smoking from a hookah. The age range is 20 and up, dressed in jeans and high-end sneakers, to suits and ties, and five-inch heels with miniskirts.
During a recent interview, Cary, who was influenced by the pianists Randy Weston and McCoy Tyner, explained his "Harlem Sessions" concept. "I didn't want to teach in a university because I'm looking for students who want to learn outside the box," said Cary. "This gives me the opportunity to bring people together and teach them how to be in an ensemble, not just solo."


Last week, Cary and the ensemble took off on an African swing, based on the rhythms of the Gnawa musicians of Morocco, with whom he had the pleasure of playing.

"It's an ensemble session," said Cary. "We include people that want to involve themselves in the ensemble. We focus on a repertoire that becomes orchestrated and develop harmony as we interpret the music. We are creating a movement. Everybody comes with new concepts (poets, dancers, singers, comedians). We are all leaders without egos. If you have an ego on stage, it knocks out the creativity."
Some of the resident artists include the alto saxophonist Mike Casey, the vocalists Tevri Doris and Charles Turner, the bassists Rashaan Carter and Tarus Mauteen and the drummers Russell Carter and Sameree Gupta.
"We rehearse every Thursday live," Cary continued. "I like to arrange on the spot, so everyone rolls with the flow. We are building an intuitive ensemble with real conversation. This is not a hip-hop or R&B session. Song menus are placed on Facebook so those attending will have an idea of the evening's focus. We are developing the great 'Black American Songbook,' which is the spectrum of Black music." The repertoire ranges from Aretha Franklin to Miles Davis, Curtis Mayfield, Bill Withers and Horace Silver.


Sometimes the room seems top heavy with musicians. During the legendary days of Minton's Playhouse, the pianist Mary Lou Williams observed, "There were more musicians on line waiting to get in Minton's than regular folks." Cary's sessions are the hippest hangout since St. Nicholas Pub.
Cary, a native of Washington, D.C., grew up playing go-go music and later moved to Harlem, where he played with Betty Carter, Dizzy Gillespie, Jackie McLean, David Murray, Carmen McRae and Meshell Ndegeocello. The arranger and composer was nominated as Downbeat's Rising Star/Keyboards in 2014.