Lamar Odom breathing on his own, taken to Los Angeles
By Ed Payne and Ashley Fantz, CNN | 10/20/2015, 12:02 p.m.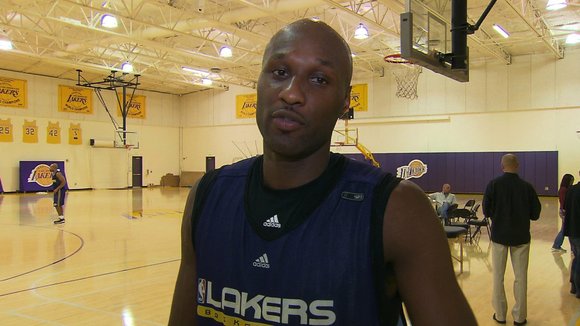 (CNN) -- Now breathing on his own, former NBA player Lamar Odom has been taken from Las Vegas to Los Angeles to continue his recovery.
A friend of Odom's told CNN that he has been transferred to a Los Angeles hospital. ESPN, citing sources, reported that Odom was taken by medical helicopter on Monday night.
Former college coach Jim Harrick said on CNN's "New Day" Monday that the 35-year-old athlete has made "a little bit of progress" and has told his estranged wife, Khloe Kardashian, "I love you."
Odom was hospitalized last week after he was found unconscious at the Love Ranch, a brothel in Nevada where he had been holed up for several days.
What happened?
Little is known about what left him unresponsive at the brothel. Love Ranch owner Dennis Hof recently told CNN that Odom was "in a good frame of mind" when he was taken to the brothel, and that he ate and slept well there.
"He picked a couple of girls, and he had the time of his life," Hof said.
In three days at the brothel, Odom spent $75,000, which guaranteed two women would "take care of any of his needs," Hof told CNN's sister network HLN.
Employees told 911 dispatchers that Odom used cocaine on Saturday -- his first day at the brothel -- though Hof insisted Saturday that any drug use happened when Odom was partying early that morning in Las Vegas but before he'd arrived at the Love Ranch.
"I'm going to protect my business, and I'm not going to let the world say that Lamar was doing a lot of drugs in my place," he told CNN's Michael Smerconish, insisting his brothel has "zero tolerance" for illicit drugs. "Because it makes him look bad, and he wasn't doing that."
A woman said she also saw Odom take 10 herbal supplement tablets over three days.
The brothel's employees said when they found him, Odom was lying in bed on his side with a pinkish fluid coming from his mouth and nose.
'More hopeful now'
Late last week, Odom woke up and spoke for the first time, saying "Hi" to Kardashian, who had rushed to his bedside.
Harrick said that he's been in touch with her every day. Odom spoke to her Monday, the coach said, telling her "Good morning!" before going back to sleep.
"We're more hopeful now" that Odom will recover, Harrick said. "We've been on pins and needles for days."
Odom's maternal aunt, JaNean Mercer, also weighed in Monday. She released a written statement which said, "Lamar has always been blessed with a tenacious, fighting spirit, overcoming insurmountable obstacles to achieve the impossible. These past few days have been no different."
He is "defying the odds in his toughest battle to date" with "God's grace," she said.
She added, "We are committed to remaining by his side as a family for our champion, who we love immensely."