'Crimson Peak' a bloody good time
T.A. Moreland | 10/22/2015, 1:32 p.m.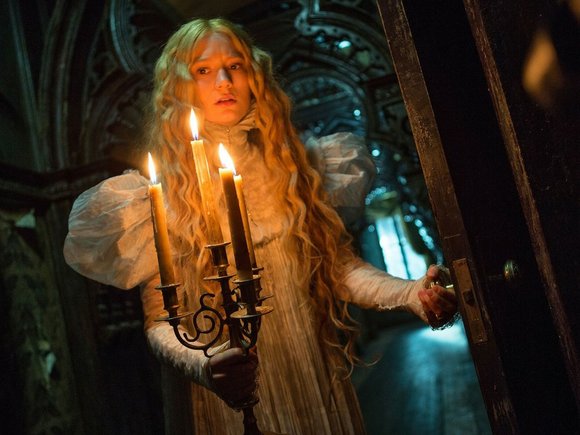 "Ghosts are for real!" is the eerie first line in the film "Crimson Peak." Edith Cushing (Mia Wasikowska) lost her mother as a child and is convinced that her parent is returning in ghost form to deliver some type of message. But Edith finds these encounters more scary than informative. She enjoys a very close relationship with her father, but his suspicion of a dashing new man in town, Sir Thomas Sharpe (Tom Hiddleston), peaks her interest in the stranger. Ultimately, Sir Thomas wins Edith's heart and she travels to his native England to share a home with him and his sister, Lucille (Jessica Chastain). The house is a massive, unkempt structure that sits on red clay, which, when mixed with water, creates the look of blood. The house is cold from a huge hole in the roof, but that coldness is warm compared with the treatment Edith receives from Lucille.
"Crimson Peak" is literally several genres of movie: a drama, a mystery, a love story and a horror film with sex thrown in. It is an exceptional multifaceted production.
As the film unfolds there is one fascinating development after another. The acting is exceptional and the actors truly own their characters. Jessica Chastain is extraordinary as the devious Lucille. Scenes have an appropriate dreariness that perfectly captures the tone of the film.
At two hours long, "Crimson Peak" can drag at some points and very easily could been edited down by 10 to 15 minutes.
It gets a "B" in our cast diversity rating. Set in the early 1900s, in wealthy circles of New York and rural England, this story does not lend itself to a highly diverse cast. However, the New York scenes have Black actors in servant roles.
"Crimson Peak" is rated "R" for bloody violence, some sexual content and brief strong language. Bloody violence is putting it mildly: there are scenes that will make even the not-so-faint of heart cringe and turn away. Our recommendation: See "Crimson Peak"!