Felix Soto keeps hope alive at Cluster House
Misani | 10/22/2015, 6:17 p.m.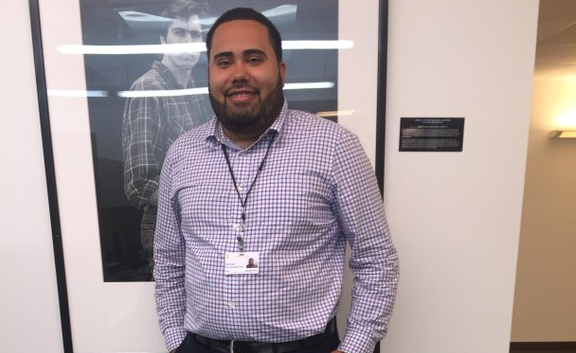 It is 4 p.m. Friday, and Felix Soto, UPwards employment specialist at Urban Pathways, is about to begin his one-hour session at the Cluster House, 902 Amsterdam Ave. in New York City. This weekly meeting by UPwards, which is under the umbrella of Urban Pathways, is designed, according to the program's brochure, "for individuals living with mental disease who have barriers to employment: histories of incarceration, poor work histories, previous substance abuse problems and limited access to education."
Headed by Darren Hoke, the program director, Upwards "incorporates the Supported Employment Model, an evidence-based practice that emphasizes quick assessment, collaborative goal setting and job training while providing unlimited supportive counseling and resources throughout job search, placement and beyond."
In addition, the UPwards staff works with clients to identify employment opportunities that match the client's skills and experience and job readiness. The staff also assists with preparation for interviews and provides job leads. The mission of UPwards is to produce "clients who are competitive and marketable job-seekers by providing them with the necessary tools and resources to support a successful job search." Finally, as stated in the program's description, "an array of services and resources are provided to clients motivated and interested in returning to work."
"It's great supporting the clients, watching their growth, giving them hope, watching them become more hopeful and growing," says Soto, who shares that he has had much success in finding employment for the clients of this program. "We recently found two positions, one at the U.S. Open, and the other one for an order and deliveries for a factory market."

Soto also discussed the Howie T. Harp Program, a peer-specialist enterprise in which those with experiences in the mental health system are given work opportunities.
"The UPwards program works as a team," says Soto. "[With] more information, you find people who are willing to give you an opportunity,"
One of the clients interjects, saying, "Some positions we qualify for, others we are unqualified for."
Another client shares, "Before, I felt that I accomplished something in the work force, but now I have to do it all over again."
In response to the client who had just spoken, a colleague offers encouragement. "You've got to realize you've done it before, and therefore you can do it again," he says. "For example, I think if we look at some of the retail jobs, it won't be so intimidating."
Soto does not let this conversation stop there. He asks the client, "What type of qualifications do you have?"

Another client quickly interjects, saying, "I used to pack items when I worked at Gristedes."

Soto points out to the client that his Gristedes experience could be transferred to another store "There's a lot you can do," Soto says reassuringly. "These are all good skills, which can get used at another job."
Soto urges the clients to focus upon their strengths as they discussed their job experiences. "We'll talk it over first." he explains. "Then we'll follow up in assisting the clients."
The group also discusses the various jobs they've held in the past, running the gamut from retail and restaurants to conference centers and health care facilities.

The men who have resided at Cluster House for the past five months readily express their gratitude for being at the residence. They also heartily acknowledge Soto and the Urban Pathways UPwards program employment services for working with them to bring out their skills that will enable them to find employment.